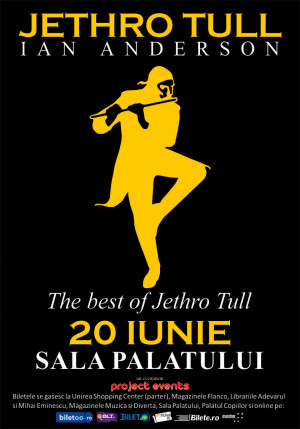 Concert

Jethro Tull live!

Friday, June 20th, 2014 – 20:00
Where
What
Project Events presents: "Jethro Tull's IAN ANDERSON plays the best of JETHRO TULL"
JETHTRO TULL live! in Bucharest @ Sala Palatului June 20th, 20:00
The show will feature a selection from Ian Anderson's new 2014-release concept album "Homo Erraticus" - which he defines as 'Folk-Prog-Metal' - in its more theatrical setting, together with a selection of Jethro Tull highlights
Jethro Tull were, by the mid-seventies, one of the most successful live performing acts on the world stage, rivalling Zeppelin, Elton John and even the Rolling Stones. Surprising, really, for a group whose more sophisticated and evolved stylistic extravagance was far from the Pop and Rock norm of that era.
With now some 30-odd albums to their credit and sales totalling more than 50 million, the apparently uncommercial Tull have continued over the next three decades to travel near and far to fans across the world.
After forty years at the bottom, at the top and various points in between, Tull are still performing typically more than a hundred concerts each year. Ian Anderson and Martin Barre remain at the centre of a group of sometimes changing but highly capable – indeed excellent – musicians. Currently, Doane Perry, veteran Tull drummer of some 24 years experience, together with John O'Hara on piano and accordion, and David Goodier on bass guitar are to be found in the line-up, delighting audiences and continuing the legacy of Tull's music with its rich variety and depth of expression wherever fans, young and old, want to hear Rock, Folk, Jazz and Classical-inspired music for grown-ups.