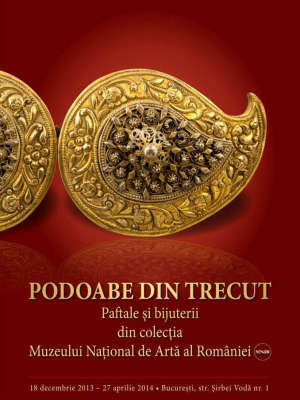 Art Show

Gems from the Past

Wednesday, April 2th, 2014 – 10:00
Where
What
The exhibition Gems from the Past: Buckles and Jewells from the Collections of the National Museum of Art of Romania is organised by Carmen Tănăsoiu, specialist of the Romanian Medieval Art Department.
The exhibition presents a selection of about 80 works from the Patrimony of the National Museum of Art of Romania, dating between the 18th and the 19th Century. A variety of objects are included, from silverware to gold plated items. They illustrate a diversity of techniques: casting, hammering, hemstitching, watermarking. These items come from Greek, Bulgarian, Cyprian, Turkish and Romanian workshops. The buckles are decorated with nacre, pearl, coral, coloured glass or gems in applied settings or in the technique of the polychrome enamel. Frequently, different crafting techniques were used at the same time, in order to achieve the rhythmicity of the decorative motifs.
Buckles became a common accessory in the Romanian Principalities during the Phanariot reign when Greek culture had a rising influence. With the passage of Romanian Society to Occidental Modernity the intellectual elite adopted the Baroque repertoire and Biedermeier Style.
Between 1840 and 1870 buckles became obsolete, fashion inclining towards Western style. Buckles were bought back into fashion around 1870 by Princess Elisabeta, the future Queen of Romania, who accessorized the Romanian national costume with buckles. Her example was followed by the feminine elite of the time until the beginning of the First World War. Queen Maria wore buckles with elegance and refinement during the inter-war period.
Period: 19 December 2013 - 27 April 2014
Location: National Museum of Art of Romania, the Rotonda of the Auditorium Room (1-3, Ştirbei Vodă), Bucharest
Opening hours: Wednesday to Sunday
11:00 – 19:00 (May - September)
10:00 – 18:00 (October - April)
Source: http://www.mnar.arts.ro/