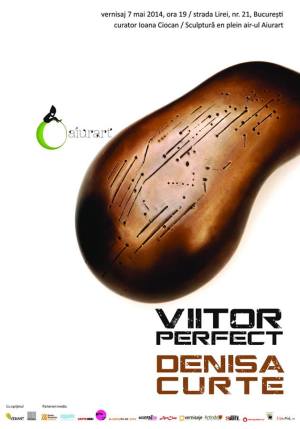 Art Show

Perfect Future by Denisa Curte

Wednesday, May 7th, 2014 – 19:00 – Sculpture en plein air at Aiurart
Where
What
May 7th to July 5th @ Aiurart Contemporary Art Space, 21 Lirei St., Bucharest
Perfect Future/ Sculpture en plein air by Denisa Curte
Ripe cybernetic fruits, from a yet to be discovered planet, with well-established roles in its ecosystem, are celebrating through dialogue the 1st anniversary of the Sculpture en plein air at Aiurart programme.
Opening: 7th of May, 19:00
Denisa Curte, sculptor (born in 1979, Cluj-Napoca) exposed at Pecsi Gallery (Hungary), Museum of Art of Bratislava (Slovacia), Museum of Art of Cluj-Napoca and Arad, ArteBronce Gallery from A Guarda (Spain). Since 2010 holds a Ph.D. in Visual Arts (Faculty of Arts and Design in Timisoara).
Curator: Ioana Ciocan
Visiting hours: Mon - Sat 15:00 - 19:00, free entrance
Facebook event: https://www.facebook.com/events/699912376736427/