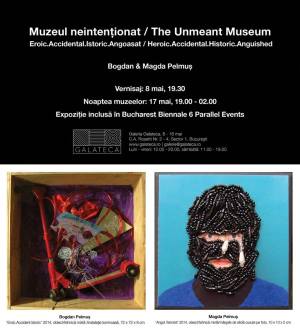 Art Show

The Unmeant Museum by Bogdan and Magda Pelmuș

Thursday, May 8th, 2014 – 19:00
Where
What
The Unmeant Museum by Bogdan and Magda Pelmuș, 8 - 18 May @ Galateca Gallery
Opening: 8 May, 19.30
Night of Museums: 17 May, 19.00 - 02.00
Curator: Roxana Gibescu
Heroic.Accidental.Historic.Anguished
The current museum (a symbol of the Western Society) has a greater impact on society than ever before. Its missions typically include acquisition, preservation, exhibition, interpretation and education. What usually defines an artwork in museum is its historical relevance and confirmed highest quality, almost to a mythical extent.
This exhibition presents itself as a temporary alternative to a museum and explores a plethora of artistic gestures, not so present in Romanian museums. The recent works of Bogdan and Magda Pelmus aren't yet authorized by the museum, but their discourses chronicle contemporary life, with its pressing social issues and the shifting concepts of freedom, manipulation, depression, paranoia, magic, passion, love, kitsch.
Although 'The Unmeant Museum' is set up like a museum space, Bogdan and Magda Pelmuş investigate and attempt to redefine the status of the showcased art object. The exhibition will include a series of complex installations, drawings, photographs, and also a series of found objects from different contexts, all offering multiple possible interpretations.
Bogdan and Magda Pelmus are two contemporary artists, with an extensive list of exhibitions, installations and performances, among which: Print Bienniale Lithuania 2008, with a project entitled 'We are 00'; part of Night of Museums in 2010 and 2012, with a series of live-stream performances from their Bucharest studio to the Museum of Art Brașov; exhibition 'Made In' at Atelier 030202 in Bucharest and 'Concrete and Heroes' at Calina Gallery in Timisoara in 2013. They are founding members of Loading Open Lab, an artist-run space which organised I'm Going Glocal 2006, ROCA 2007, Safe Mapping AKA They Are Watching, parte din Parallel Event BB3, 2008.
GALATECA is a project created by artists, designers, architects, curators and communication specialists set out to develop exhibitions of applied and multimedia arts.
Visiting hours:
Tuesday to Friday 12.00 – 20.00
Saturday 11.00 – 19.00
Sunday, Monday Closed
Facebook event: https://www.facebook.com/events/289387107887265/