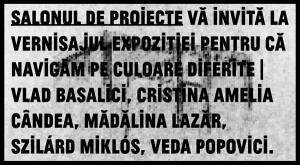 Art Show

Because we navigate on different lanes...

Thursday, May 8th, 2014 – 19:00
Where
What
Because we navigate on different lanes @ SALONUL DE PROIECTE
Contemporary Art Show
Artists: Cristina Amelia, Vlad Basalici, Madalina Lazar, Szilárd Miklós, Veda Popovici
Opening: Thursday, May 8, 19:00
8 May - 6 July 2014; Wednesday – Sunday / 10:00 – 18:00
Free entrance
More
Because we navigate on different lanes is the second exhibition of the current season to present proposals selected following open calls aimed at encouraging young artists active as part of Romania's contemporary art scene. This time, the selection of works produced especially for the occasion was carried out by the Little Warsaw duo from Budapest (artists András Gálik and Bálint Havas).
For Vlad Basalici, a historical event cannot be pinned down within time in order to create a coherent narrative; what is preserved is an accumulation of moments, of micro-events that refuse to be connected with each other.
Cristina Amelia Cândea puts forward a video installation that attempts to elucidate what occurs when "the zero moment of creation" arises. Spontaneous interactions with various objects translate into a series of impulses that cannot be framed within any concept.
In the case of Mădălina Lazăr, the starting point is a work by Gerrit van Bakel, entitled Tarim Machine, first exhibited at Documenta 7 in Kassel in 1981, her own work forming an extended meditation on movement within space, a movement that is conceptualised as an exercise in endurance and patience.
Veda Popovici is preoccupied with the issue of the migration of Romanian citizens to various parts of the world; she reflects on the condition of citizens who have no real status in the societies where they make their living, proposing an exercise that activates ethical conscience, designed to lead to an awareness of the huge difficulties confronting this social category.
Szilárd Miklós brings to our attention an important landmark of Romanian contemporary art from the 90s – the performance festival from Lake Sf. Ana, a chapter too little revisited in the last years, here being approached from the angle of the difficulties which arise through attempts of historicising this moment from the present perspective.
During the period of the exhibition, the Little Warsaw duo of artists will give a presentation of their artistic practice and Veda Popovici will organise a public debate that will be accompanied by a reader containing various personal accounts, studies and strategies connected with the topic of migration. Details of the events are to be announced.
Salonul de proiecte is a curatorial program initiated by Magda Radu and Alexandra Croitoru functioning within MNAC Anexa. This program envisages the organization of exhibitions, presentations and debates focusing upon Romanian contemporary art and placing young artists' productions into a broader generational context.
Team: Magda Radu, Alexandra Croitoru, Stefan Sava and Dana Andrei.
Facebook event: https://www.facebook.com/events/490334931065949/