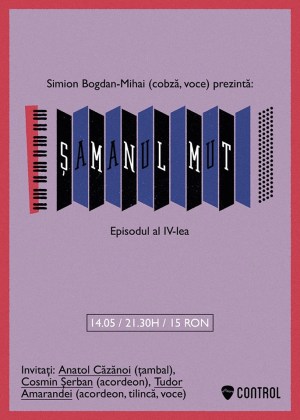 Concert

SILENT SHAMAN #4

Wednesday, May 14th, 2014 – 21:00
Where
How much
15 LEI
What
SAMANUL MUT (SILENT SHAMAN) is an inspired series of music events bringing to the attention of the music lovers special performances of oral tradition music.
Presented by: Simion Bogdan-Mihai (kobsa, vocals)
Guests: Anatol Căzănoi (cymbal), Cosmin Şerban (accordion), Tudor Amarandei (accordion, tilinca, vocals)
People you will never forget, creativity as breathing, hidden stories of music, Romanian villages, Roma magic, musical instruments you have never seen, alternative culture in the heart of the city; these are only a few reasons why you should join the event.
Unplug yourself from the travel guide and come meet the secrets of Bucharest!