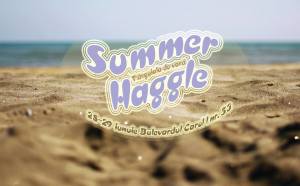 Fair

Summer Haggle in Bucharest

Saturday, June 28th, 2014 – 10:00 – bargain fair, social garden party, concert, theatre, workshop and more!
Where
What
Summer Haggle is a weekend of good time you can spend in one of Bucharest's alternative venues, Carol 53. Prepare for a bargain fair with clothes and not only, workshops, concerts, music and performances, lemonade and nice people!
This is your chance to get to know the locals in Bucharest and experience sunny coloured hours over a social party!
Saturday 28th of June:
3 pm – Workshop Papusa de perete (Wall doll) – handmade dolls
5 pm - Demo Bewise Collective Movement
A "collective" with roots in skateboarding and a variety of art related domains, focused on the goal of creating a self sustainable "movement", fueled through skateboard recycling and reshaping, visual arts, music, urban life and reaching towards the "community".
7 pm – Theatre show – All about Sara by Vlad Vieru
9 pm - Garden party with DelaHaze FM
Sunday 29th of June:
12 am – Eurhythmics workshop
3 pm – Acting workshop with Go!bananas
8.30 pm - Concert Lily and The White Tiger
You can visit the fair from 10 am to 8 pm!