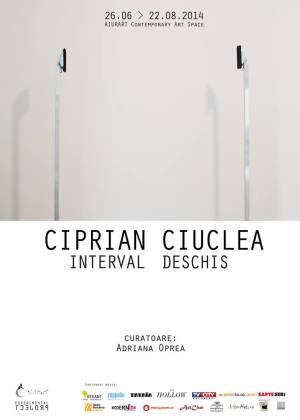 Art Show

CIPRIAN CIUCLEA > OPEN INTERVAL

Thursday, June 26th, 2014 – 19:00 – art installation / object show
Where
What
Ciprian Ciuclea > Open Interval
June 26 – August 22, 2014
Curator: Adriana Oprea
Ciprian Ciuclea is an artist concerned with the relationship between image, object, art and sensibility. I love Bach (Calina Gallery, Timisoara, 2009) and Descriptio (Brukenthal National Museum, Sibiu, 2009) are two important exhibitions that offered, even then, coordinates of his visual universe, repeated at different scale, in another context and with seemingly other theoretical interests in more recent exhibitions, as The consequences of the object's interpretation process on an objective look (Recycle Nest Gallery, Bucharest, 2010) and Erosion | after continental drift theory (Spatiul Platforma, National Museum of Contemporary Art, Bucharest). They fall under a broader research interest that the artist devoted for years to the relationship between art and science.
Art sensory is thus presented with consistent incursions in science. Therefore, all his projects are technological, based on apparatus (as main character of the exhibit) and on mathematics, physics, optics or chemistry.
The Open Interval project is in this line, retrieving an old concern of the artist for sensorial sound recording. This is why Open Interval is a large, elaborate sound system. Relying on the well-known algebraic notion, the sound played in the exhibition space will physically create the reality of a formula that otherwise remains abstract. What does it mean to produce and perceive an open interval through sound waves? The particularity of the exhibition is that the sound will be spread and physically recorded first through image (the first part of the exhibit: audio-video installation), and then it will become the protagonist (the second part: sound installation). Ciprian Ciuclea's project proposes an immersive, ambiental, diffuse environment, a conceptual sound atmosphere that is completely reshaping the physical aspects of the space and creates the context of a special perceptual experience.
More
Ciprian Ciuclea is a Romanian visual artist based in Bucharest. He is interested in site-specific projects that focuse mainly on conceptual aspects of reception. He develops complex installations involving light, sound and video. The themes explored, often using his personal face and body as an instrument, are related to social aspects of communication and message interpretation, contemplation and surveillance, usually placed in relationship with scientific aspects of humane existence.
Adriana Oprea is a Romanian critic and art historian. She often collaborates with contemporary art spaces, curates exhibitions and regularly writes essays for exhibition catalogues and reviews for Romanian magazines. In 2011 she curated "Welcome to the Uncanny Valley" (artists: Berszán Zsolt, Betuker István, Veres Szabolcs) at Bazis Gallery, Paintbrush Factory in Cluj and, in 2012, she had a documentary intervention about fiction and forgetfulness in art history within "Past Perfect. Ephemeral Offerings", a project and exhibition at Platforma Space at the National Museum of Contemporary Art in Bucharest.
Adriana Oprea lives and works in Bucharest.