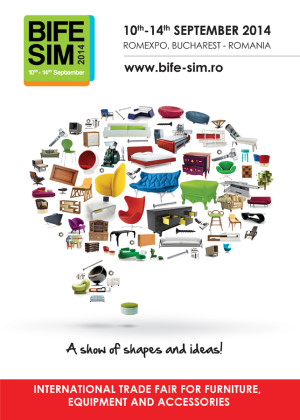 Fair

BIFE-SIM 2014 - Internation Furniture Fair @ Bucharest

Wednesday, September 10th, 2014 – 00:00
Where
How much
15 LEI
What
International Fair for Furniture, Equipment and Accessories will be held from September 10 to 14, at Romexpo Exhibition Center in Bucharest, and will be organized byROMEXPO and and co-organized by Romanian Furniture Manufacturers' Association, Romanian Chambers of Commerce and Industry and EUROEXPO.
BIFE-SIM 2014, Romania's biggest furniture fair, invites you to discover inspirational furniture designs and breath-taking shapes & ideas made in Romania.
Meet over 300 exhibitors from Romania and abroad, who are covering all of the market segments:

Classic
Design
Comfort
Kitchen
Decorations
Accesories & Materials
Equipment & Machinery

Estimated surface: 30,000 square meters

Good to know: Romania is known on the international market as one of the biggest quality furniture exporters.
This is a good opportunity for you to get inspired and buy designer objects in Bucharest!

See you at BIFE-SIM!