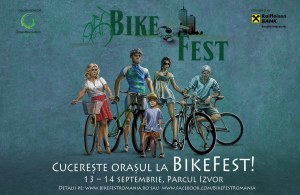 Festival

BikeFest 2014 - Bucharest Bike Festival

Saturday, September 13th, 2014 – 00:00
Where
Izvor Park
2 Izvor St., Bucharest
What
Largest event dedicated to urban bikers, BikeFest 2014 invites you to discover a different Bucharest between 13 and 14 of September 2014.
Competitions, marathons, concerts, screenings, handmade fair, workshops and creative happenings, as well as prizes and lots of fun!
If you are a dedicated biker and the bicycle is part of your daily life in the city you will find this event the opportunity to discover how people like you, living in Bucharest, are celebrating their passion for riding the bicycle and living greener!
See you in Izvor Park near The Palace of Parliament on Saturday and Sunday all day long!