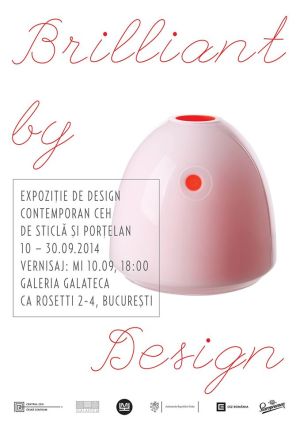 Art Show

Brilliant by Design

Wednesday, September 10th, 2014 – 18:00 – Exhibition of contemporary Czech designer glass and porcelain.
Where
What
Czech designers are coming to Bucharest to present their works.
Czech Centre Bucharest, along with Galateca Gallery present Brilliant By Design, an exhibition of contemporary Czech designer glass and porcelain. The exhibition will take place between 10 and 30 September at Galateca Gallery (C.A.Rosetti, no. 2-4) and will be opened on Wednesday, 10 September, at 18:00.
The exhibition presents designer glass and porcelain made by contemporary Czech companies. It aims to specifically emphasise the continuity of the glass and porcelain production by selecting successful, timeless examples from the past 100 years.
FREE ENTRANCE.
Visiting hours:
Tuesday to Friday 12:00 – 20:00
Saturday 11:00 – 19:00
More
The Czech Republic is justly proud of its glass and porcelain. The golden age of Czech glass and porcelain came in the 18th century, when the products of Czech workshops and factories were successfully sold worldwide. Czech glass and porcelain production has always stood out for its accomplished craftsmanship, a rich variety of designs and excellent knowledge of foreign markets and their specific requirements. Nowadays, artists and designers are an integral part of the entire manufacturing process.
About the design, manufacturing process, the contemporary and traditional Czech glass and porcelain will talk the exhibition curator Petr Nový and of the designers presented, Martin Žampach, the day after the opening, on Thursday, September 11, at 18:00, at Galateca Gallery.
"This exhibition has been presented in Prague, Budapest, Stockholm, Gent, Moscow and Frankfurt and I am happy that we can show it also to the public in Bucharest", says the Czech Centre director, René Kubášek.
Partners: Embassy of the Czech Republic, Jablonec Museum, CEZ Romania and Staropramen.
For more information, please contact Iulia Țurcanu at [email protected],
0724 352927.
Facebook event: https://www.facebook.com/events/671333352952909/