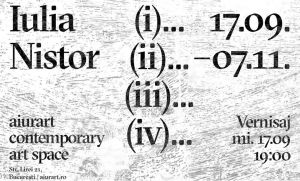 Art Show

Iulia Nistor Art Show

Wednesday, September 17th, 2014 – 19:00
Where
What
Iulia Nistor (i)... (ii)... (iii)... (iv)... @ Aiurart
Opening: Wednesday, September 17, 19:00 – 22:00
September 17 – November 7; Visiting hours: Mon – Sat, 15:00-19:00
Free entrance
Text: Manuel Niedermeier
Graphic: Rory Witt
Auf der Straße.

Niemand.

Außer ihr.

Ein seltsames Gefühl hatte sie da, beim Gehen. Sie blickte nach unten. Ihr war, als wären die Füße - diese Füße dort unten!- die sich so unablässig bewegten, als wären sie ihr einen Schritt voraus.

Tatsächlich! Einen Schritt voraus. Wie sollte das möglich sein? Wie das Gesehene deuten?

Es waren doch ihre Füße. Von klein an.

Also: nur sie auf der Straße, der Himmel grauverschlossen, ebenso die Türen: verschlossen. Nicht abweisend, einfach verschlossen. Tauben hockten in Nischen, die Köpfe unter den Flügeln, träumten -

Vielleicht, wenn sie etwas schnell gehen würde? Vielleicht war es das. Vielleicht würden die Füße dann zu ihren Füßen.
In the street.
No one.
Besides her.
She had this funny feeling as she was walking by. She was looking downwards. She felt as if her feet – those feet down on the ground! – [were] moving ceaselessly, as if they were a step ahead of her.
Indeed! [They were] one step ahead of her. How could this ever be? How could one read into what had happened?
Yet, these were but her feet, after all – ever since she had been a little girl.
Thus: [it was] just her, walking in the street, grey skies above, closed doors behind. Not unwelcoming, just wide shut. Pigeons filling the alcoves, with their heads couched beneath their wings, dreaming –
If only she were to walk that little bit faster... Maybe that was it. Maybe, those legs could morph into her legs.
Translated and adapted into English by Bogdan Lepadatu.
https://www.facebook.com/events/1518001701770522/