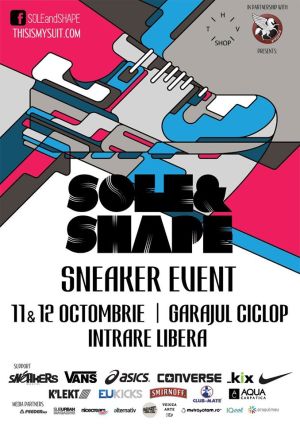 Fair

SOLE & SHAPE #2 - Fall Edition

Saturday, October 11th, 2014 – 13:00
Where
What
SOLE & SHAPE #2 - Fall Edition - Sneaker Event @ Ciclop
11 OCTOBER (13:00 - till late) - 12 OCTOBER (13:00-21:00); FREE ENTRANCE
CICLOP PARKING (Magheru Gheorghe Blvd., Bucharest)
After a successful first edition, SOLE & SHAPE is taking place for the second time, in the capital of Romania and becomes the only sneaker event across the country.
The organizer's aim is to reunite sneaker lovers and gather the best footwear from brands and shops, the crème de la crème of specialized vendors and displayers, celebrating the sneaker culture - as other countries have been doing for years now.
The market/swap will include local and international brands, shops and vendors, displayers, collectors, new and vintage, urban and contemporary, clothing, accessories and stuff, and of course the opportunity for all attendees to buy, sell, trade and exhibit their own sneakers.
During the two days there will be several supporting activities - one exhibition of vintage models and unique deadstocks, contests, music, a dedicated area with food & drinks and others.
More
What to expect?
NEW & VINTAGE / URBAN & CONTEMPORARY SNEAKERS / CLOTHING, ACCESSORIES & STUFF/ COLLECTORS ITEMS / ONE OF A KIND & SAMPLES / PRINTS & MAGAZINES / RECORDS & TOYS
BUY / SELL / TRADE / EXHIBIT - MARKET
PAYMENTS: CASH ONLY - EURO & LEI
VENDORS & DISPLAYERS: Hello There Vintage SHOP, SNEAKERS MAGAZINE, KIX. Store, Nike, Converse, Vans Store Romania, ASICS, Imperator, Sneaker Industry, Hypemeister, OllieGang Shop, Bicicletele Pegas, Rookie Skates Romania, Uman Shop, Dvils, White Elephant, Experiment Point, Stereo Socks, GhostFaceWear, Bumbag - Ramona Manea, Vika Tonu Design, Greatest hits., Vrong, PurpuriuFistichiu, Bărboși & others
ORGANISER:
Hello There Vintage SHOP - founded & owned by the multidisciplinary creative, memorabilia curator and collector - Dorin Stanciu aka Dennis Green, in partnership with Atelierele Pegas
WITH THE SUPPORT OF: SNEAKERS MAG, Nike, Converse, ASICS Romania, Vans Romania, KLEKT, EU Kicks, Red Bull, Smirnoff, Club-Mate Romania, AQUA Carpatica
OFFICIAL SITE: http://THISISMYSUIT.com/
If you want to keep abreast of everything that will happen in the event, you can follow SOLE & SHAPE on facebook: http://fb.com/SOLEandSHAPE
ARTWORK by Bryan Gallardo BS13