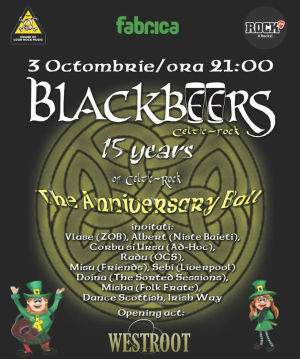 Party

Anniversary Ball -15 years of Blackbeers!

Friday, October 3th, 2014 – 21:00
Where
What
Celtic rock, Irish punk, good beers (especially black:)), madness, kilts, in a word Irish spirit is what the Blackbeers will bring on stage at Fabrica Club – Bucuresti, on Friday, October 3, 9 p.m. as they celebrate 15 years of activity.
The band was formed in Oradea in late 1999 by Peter Moynahan, and debuted as a traditional Irish music group. Since 2005 plays celtic-rock and Irish-punk. They produced 3 albums and several other recordings.
Besides classic ones like The Auld Triangle, Ride On, Drunken Sailor, Whiskey In The Jar, In Heaven There Is No Beer and several Flogging Molly or Dropkick Murphys covers, new songs will also be on the playlist. The band will bring a special show that will include former members and other guest musicians.
Free entrance; be there at 21:00
https://www.facebook.com/events/306403666213605/