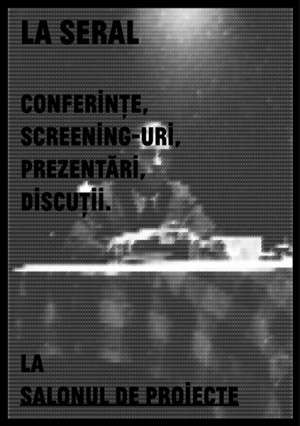 Conference

Evening classes

Wednesday, October 8th, 2014 – 19:00
Where
What
Evening classes: conferences, screenings, presentations, discussions
October 8 - November 26 @ MNAC Annex, Bucharest
After three years of activity, during which the Salonul de proiecte's main goal was the production of contemporary art, in the upcoming period we aim to reflect on the relationship between production and reception, between art and public.
Henceforward our efforts will also focus on the creation of discursive platforms that will contribute to generating a context leading to a better understanding of the position of contemporary art within a global constellation of current concerns. The evolution of the local artistic environment in recent years has proven that there is a need for this, not just in relation to the wider public, but also within the narrower circle of cultural producers and operators.
We believe it is important that we learn from one another, that we share our experiences in regard to self-organisation and the creation of tools that can make contemporary art become a voice with a greater presence in society.
www.salonuldeproiecte.ro
More
Salonul de proiecte is a curatorial program initiated by Magda Radu and Alexandra Croitoru functioning within MNAC Anexa.
This program envisages the organization of exhibitions, presentations and debates focusing upon Romanian contemporary art and placing young artists' productions into a broader generational context. Team: Magda Radu, Alexandra Croitoru, Ștefan Sava, Dana Andrei
Evening classes schedule
October 8th, 19.00, Screening: Harun Farocki (DE)
The Creators of Shopping Worlds (2001) and In Comparison (2009)
Harun Farocki (1944–2014) was a director, screenwriter and film professor. Author of over 80 films (feature, documentary, essay), he was the editor of Filmkritik before teaching at UC Berkeley. He participated at Documenta 12 and had solo exhibitions at Hamburger Bahnhof, Museum Ludwig, MoMA and many other prestigious institutions.
October 15th, 19.00, Talk: Olga Ștefan (CH) in conversation with Ștefan Constantinescu (SE)
Olga Ștefan is a curator and writer living and working in Zürich. She has curated exhibitions such as Drawing Protest: From Museum Walls to Facebook Walls and Back (Shedhalle Zürich), 2014; Guess Who's Coming to Dinner: Hospitality as Artistic Practice (The Proposal, Zürich), 2013; Just Another Brick in the Wall: Models for Artistic Production in Romania (Barbara Seiler Gallery), 2012. She has written articles for ArtReview, Art in America, Flash Art, Artslant, Artmargins and others.
Ștefan Constantinescu is an artist and director working with different mediums (film, photography, artist's books and painting). In 2009 he represented Romania at the Venice Biennale in the exhibition The Seductivness of the Interval, together with Andreea Faciu and Ciprian Mureșan. He lives and works in Stockholm and Bucharest.
October 23rd, 19.00, Performative lecture: Olof Olsson (DK)
Olof Olsson is a Swedish artist who uses in his performative practice monologue, stand-up comedy, lectures, Q&A sessions and discourses. "Or, rather, something in-between, or not quite". He has participated, among others, at the symposium Going Public: Telling It As It Is? (Bilbao), 2012; Three Uses of the Knife (The National Gallery of Art Vilnius), 2011; Summer Exhibition (Den Frie), 2012. He lives and works in Copenhagen.
October 30th, 19.00, Talk: Maria Hlavajova (NL)
Maria Hlavajova is the initiator and artistic director of the FORMER WEST project, as well as the artistic director of BAK, basis voor actuele kunst, Utrecht, starting from 2000. Hlavajova has organized countless exhibitions, such as Lawrence Weiner: Dicht Bij, 2010; Sanja Iveković: Urgent Matters (BAK și Van Abbemuseum, Eindhoven), 2009.
November 6th, 19.00, Artist talk: Dan Acostioaei (RO)
Dan Acostioaei is an artist who lives and works in Iași and teaches at the George Enescu University of Arts in Iași. He has participated in various exhibitions, such as One Sixth of the Earth - Ecologies of Image (MUSAC), 2012; Transitland: videoart in Central and Eastern Europe 1989-2009 (Museo Nacional Centro de Arte Reina Sofia), 2010; Illuminations (Level 2 Gallery, Tate Modern), 2007.
November 13th, 19.00, Artist talk: Ciprian Mureșan (RO)
Ciprian Mureșan is an artist who lives and works in Cluj. Recent solo exhibitions: Recycled Playground (Centre d'Art Contemporain Genève), 2012; Ciprian Mureşan (Neuer Berliner Kunstverein, Berlin), 2010. He is part of the editorial board of IDEA. Arts + Society (Cluj).
November 20th, 19.00, Talk: Sabina Sabolović, What, How and for Whom (HR) curatorial collective
What, How & for Whom/WHW is a curatorial collective started in Zagreb in 1999 by Ivet Ćurlin, Ana Dević, Nataša Ilić, Sabina Sabolović and Dejan Kršić. From 2003, the collective has organized the program of Galerija Nova in Zagreb, together with international projects such as Istanbul Biennale, 2009, or Meeting Points 7, 2013-2014.
November 26th, 19.00, Talk: Vladimir US (MD)
Vladimir Us is an artist, curator and a founding member of the Oberliht Young Artists' Association in Chișinău, serving from 2007 as a platform for projects such as Chioșc and ARThotel. He edited Plic magazine and initiated Chioșc AIR, a residency program for artists and curators.
Source:https://www.facebook.com/events/1482130565407472/