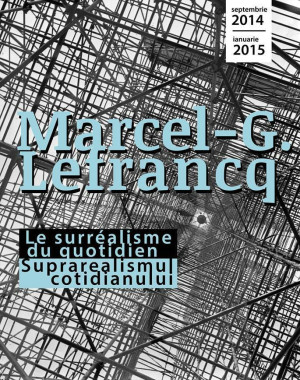 Art Show

The Surrealism of Everyday Life

Saturday, September 27th, 2014 – 10:00 – Marcel-G.Lefrancq in Bucharest
Where
How much
4 LEI
What
Exhibition of Photography MARCEL- LEFRANCQ.
The Surrealism of Everyday Life
Period: 27 September 2014 - 18 January 2015
Location: The National Museum of Art of Romania/ Kretzulescu Halls
Entrance fee: 4 lei
Visiting hours: Wednesday to Sunday 10:00 – 18:00
The National Museum of Art of Romania, Wallonie-Bruxelles International, Delegation Wallonie-Bruxelles in Bucharest and the Charleroi Museum of Photography, Belgium, invites you to visit the exhibition of photography MARCEL-G. LEFRANCQ The Surrealism of Everyday Life.
The exhibition presents sixty photographs recreating, through a series of striking images, an imaginary world, capturing the upsetting realities of the artist's epoch.
Marcel-G.Lefrancq (1916, Mons – 1974, Vaudignies) made his debut in 1932, as his oldest negatives indicate. He was self-educated in the field of photography, acquiring his own supplies from a local merchant.Nonconformist by his nature, Marcel-G.Lefrancq is the author not only of photographs capturing suggestive aspects of everyday life, but also of elaborate compositions exploring the Surrealist art movement, embraced by many Belgian artists.
Source: www.mnar.arts.ro