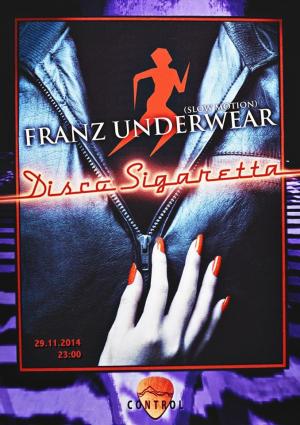 Party

Franz Underwear @ Disco Sigaretta

Saturday, November 29th, 2014 – 22:00 – Party in Bucharest
Where
What
This Saturday, November 29th, Franz Underwear (SlowMotion) joins Disco Sigaretta @ Control
Be there at 22:00
Why bother?
Because they are not attracted to what is in the main music and is replicated like if it was a guarantee of quality. They like to confront each time with something individual and distinctive.
For one reason or another, underground music is the story that they want to continue to live and tell.
More
Franz Underwear's sets are as diverse as the music he curates as label head of Slow Motion.
Weaving smoothly between Italian Dance, Cosmic, Psychedelic and Dirty Disco, Franz quickly turns the dance floor into a vignette-tainted retro nostalgia rave fueled only by his music and liters of Cuba Libre he likes to consume whilst behind the decks.
Born in Pescara, Italy and now a resident of Berlin for nearly a decade Franz has his roots in noise and industrial rock but was led by the record collectors passion into acquiring a taste for modern and not so modern dance floor music.
Franz Underwear frequently inspires dancers in clubs all over Europe with his eclectic blend of spacey Electro, New Wave and Acid speckled with hints of Detroit and Chicago House.(Source: www.slowmotionmusic.it)