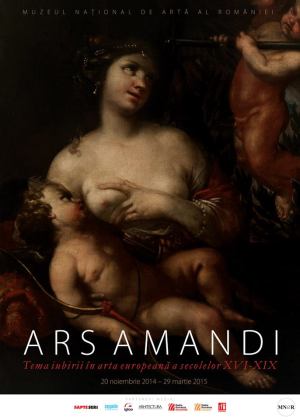 Art Show

ARS AMANDI

Friday, November 21th, 2014 – 10:00
Where
What
ARS AMANDI. Love in European Art between the 16th and 19th century
Period: 21 November 2014 - 29 March 2015
Location: The National Museum of Art of Romania, the ground floor of the National Gallery
Opening hours:
Wednesday to Sunday 10:00 - 18:00
More
The ARS AMANDI. Love in European Art between the 16th and 19th century exhibition gathers 73 works (paintings, drawings and engravings) from the patrimony of the National Museum of Art of Romania, from Brukenthal National Museum in Sibiu, and from the Romanian Academy Library – The Stamps Cabinet. On this occasion, little known or unknown works are presented for the first time, after their recent restoration. The curator of the exhibition is Cosmin Ungureanu, specialist in the European Art Department of the National Museum of Art of Romania.
The exhibition illustrates a recurring theme in European art, approached by Italian, Netherlandish, French and German painters in various ways. Highlighted works are paintings by Giovan Francesco Maineri (Allegory I and Allegory II), Abraham van der Schoor (The Concert) or Marco Liberi (Diana and Endymion), workshop versions and copies after Jan Gossaert (Tarquinius and Lucretia), Jacopo Palma The Elder (Venus and Amor) and Bartolomeo Schedoni (Charity), but also graphic works by Marcantonio Raimondi (Judgement of Paris), Hendrik Goltzius (Venus and Amor with a Faun), Aegidius Sadeler (The Portrait of Bartholomeus Spranger and of his Wife Christina Müller) or Albrecht Dürer (Hercules at the Crossroad).
The ARS AMANDI. Love in European Art between the 16th and 19th century exhibition has four sections, being conceived as a journey in the field of love. The first section, The Mythology of Love, illustrates different representations of the goddess of love, Venus, individualized and inserted into various narrative compositions, ranging from amorous liaisons to motherhood. An iconic portrayal of Venus in European art, from Renaissance to the 19th century, is her representation next to her son, Amor.
The next section, Love in Literature, analyzes the theme of love in Ancient, Renascent and Post-Renascent literature. Passion, drama, tragedy, characters and famous love stories become a subject of inspiration for artists between the 17th and the 19th century. Continuing the previous section, (De)sacralized Love tackles the sacredness of love in European culture starting from a preponderant Christian perspective, including representations detouring profane love to sacred love (Penitent Mary Magdalene, Charity, Virgin and Child). The last section of the exhibition, Allegories and Symbols,gathers allusive or coded images, complementary to the theme of love.
Source & photo credits: www.mnar.arts.ro