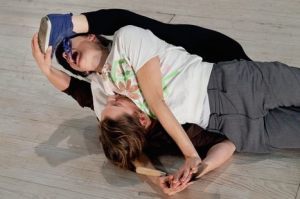 Dance Show

STAFF

Saturday, March 7th, 2015 – 19:30
Where
How much
25 LEI
What
''STAFF is a choreography existing in the future. We are its resources. Our job is not to create it, but rather to render it visible. It's not about creativity, it's all about archaeology.'' (STAFF)
Performance by Andreea David & Ingrid Berger Myhre @ WASP
Saturday, March 7th, 19:30
Ticket reservations: [email protected]
Price: 25 RON / 15 RON – students
Choreography and performance: Ingrid Berger Myhre & Andreea David
Technique: Edwin van Steenbergen, Thierry Cabrera
Photography: Grègoire Edouards
Funded by: Arts Council Norway
Coproduction: Dansateliers/ Rotterdam, WASP – Working Art Space and Production/ Bucharest, Blackbox Theater/ Oslo, 4Culture / Bucharest
Support: Centre Chorégraphique National de Montpellier, Life Long Burning, Culture Programme
More
STAFF is Ingrid Berger Myhre and Andreea David in their first choreographic mission.
STAFF is its own employer as well as employee.
STAFF is about patenting and claiming the ownership of one's own activity, despite the degree of competence. STAFF recycles its questions and educates itself.
STAFF is not innovative but is happy to state the obvious. STAFF names what we cannot put our finger on, as well as what defines itself. For it is by naming the evident that it is truly brought into being.
STAFF plays with the artist as hired in her own universe. STAFF is unemployed up until the moment their labour is being appreciated. When this eventually happens, the work justifies itself in the name of art and the hierarchy of value and purpose dissolves.
Andreea David in an architect, performer and ex-follower of the EX.E.R.C.E master at CNN Montpellier...
In 2012 she received a Dance WEBB scholarship, at ImpulsTanz Vienna. As a dancer she collaborated with the choreographers: Doris Uhlich (AT), Thomas Stayaert (BE) and Madalina Dan. STAFF was born in Montpellier and together with DUET (created in collaboration with Adriana Gheorghe) represents one of her first own works.
Ingrid Berger Myhre (1987) studied at the Laban Centre in London and graduated from Amsterdamse Hogeschool voor de Kunsten in 2010. She has worked extensively as a performer internationally, followed by her first independent works CURRENT (2013), STAFF (2014) and LATEST NOTES (2015). She received the DanceWeb Scholarship recepient in 2010, and is currently retrieving her MA in choreography at EX.E.R.CE in CCN, Montpellier. http://ingridbergermyhre.com/
WASP-ers have free acces during the period of the workshops they register for, based on reservations and in the limit of the available seats.
More information about WASP-er PASS and the Programme for Professional Training in the field of Contemporary Performing Arts, GROWASP: http://waspmagazine.com/growasp/
Source:www.facebook.com/events/1377298725919906/