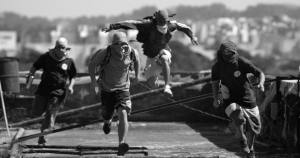 Film

DOCUMENTARY MONDAYS

Monday, March 30th, 2015 – 20:00
Where
What
Pixadores / DOCUMENTARY MONDAYS @ Czech Centre
English subtitle; Free admission; be there at 19:30.
Pixadores is the debut feature by Amir Arsames Escandri.
Pixadores is a film about a protest movement and revolt in Sao Paulo.
Pixadores (taggers) are young men who come from non-elite marginal areas of São Paulo. Their interventions exploit the forms of freedom made available by urban culture. They liberate themselves from the confines of place, medium, and particularly from institutional control or appropriation. Djan, William, Ricardo and Biscoito are four young pixadores from the slums of São Paulo, all driven by anger, want and despair. When they incidentally intersect with the art world after being invited to the Berlin Biennale for Contemporary Art, they outrage their German curator when they start tagging a landmark building.
Cinematographer Peter Flinckenberg and director Amir Escandari follow the pixadores as they climb up walls and buildings, with a dynamic, hand-held camera which follows the boys in their daily lives, at work, on the street, or at home in the favela. A richly textured soundtrack underlines the tension in the lives of the often-hunted pixadores who live between raids for copper, train surfing, and occasional readings from Nietzsche. The film captures their acts of freedom in São Paulo and their culture clashes in Berlin, while also catching glimpses of the widespread poverty and anger of Brazil's lower classes. But the story does not end here: if the art world could not appropriate them, multinationals already have their eyes on the pixacao.