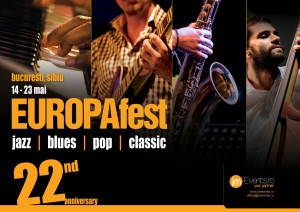 Festival

EUROPAfest 2015

Thursday, May 14th, 2015 – 19:00 – music festival in Bucharest
Where
What
22 years of concerts, contests, unforgettable encounters with musicians from all around the world, creative synergies, excitement, ecstatic audiences, ambience and bon-tone.
The only European festival reuniting 4 musical genres – jazz | blues | pop | classic is back in 2015 with exceptional concerts.
Under the motto It's all about live quality music!, EUROPAfest presents during 14 – 23 may, over 300 artists from 45 countries - Europe, with special guests from USA, Australia, China and Japan.
Since 2005 EUROPAfest takes place under the High Patronage of The Royal House of Romania.
The festival is a breath of fresh air in the limited context offered by the market of cultural events in Bucharest, where the public usually receives what is being sold. Putting accent of quality and less on what is commercial, jmEvents, the festival organiser, encourages the youth towards music by offering free entrance for students, in the limit of the available seats.
More details about the concerts and tickets can be found on www.jmEvents.ro.
More
An incendiary night is announced for EUROPAfest Gala, 4 jazz bands from 3 continents fight for the Grand Prize Winner
On May 23, at 19:00 takes place EUROPAfest Gala at Odeon Theatre – Majestic Hall.
The 10 days marathon of jazz, blues, pop and classical events, which took place simultaneously in Bucharest and Sibiu, ends with an exceptional concert, whose coordinates are diversity, special atmosphere and high artistic level.
The scene of Odeon Theatre will be brought back to life by the most appreciated jazz bands in the festival, the finalists of Bucharest International Jazz Competition: Pilot | Australia, Shalosh | Israel, Atom String Quartet | Poland and Mynah | Italy. 4 different styles, 4 bold projects and a lot of quality jazz. The audience had the chance to choose their favorite, to live emotions next to their favorite jazz band, while anxiously waiting to find out the winners.
During the same night, the public will discover the new stars of the international violin stage, the laureates of the 22nd edition of Jeunesses International Music Competition Dinu Lipatti being awarded. Unique moments will happen on the stage, interpretations full of emotion and sensibility, virtuosity and refinement at its highest level.
After the high-class performances offered by the Bucharest International Jazz Competition finalists and the awarding for the violin competition, a special moment is marked by Prince Nicholas of Romania presence on the stage for awarding the Diploma of Excellency to a company partner of the festival.
The crescendo end brings a captivating jam session where all musicians participate, followed by the exciting moment, the award of the "Best Band" and "Grand Prize Winner" prizes.
EUROPAfest Gala promises a show of music at its finest quality standards, a feast of jazz and classical, which harmoniously ends an explosive and surprising edition.
EUROPAfest Gala is an alternative, which transform a usual Saturday evening into a memory, full of joy and happiness.