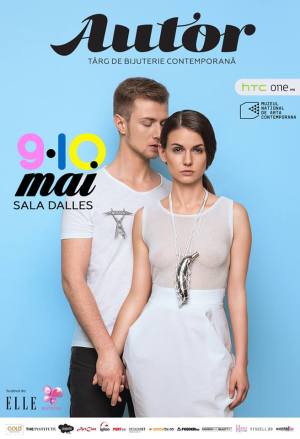 Fair

Autor 13

Saturday, May 9th, 2015 – 11:00 – Contemporary Jewelry Fair in Bucharest
Where
How much
10 LEI
What
AUTOR makes you fall in love with contemporary jewelry!
The 13th edition of AUTOR International Contemporary Jewelry Fair, the most important event of this kind from the South-East of Europe will take place this weekend at Sala Dalles in Bucharest.
During the 7 years of existence, AUTOR became an opened and active platform, a real and virtual space, where contemporary jewelry creation is not limited by geography nor preconceived ideas. And because love has no boundaries, at the international contemporary jewelry fair AUTOR you are going to meet designers from five continents, from Israel, Italy, Russia, Austria, Bulgaria, Hong Kong, Switzerland, Greece, Slovenia, Slovakia, Spain, Sweden, France, Germany, Honduras, Canada and, of course, Romania.
Fair schedule:
Saturday 9th of May: 11:00 – 21:00
Sunday 10th of May: 11:00 - 20:00
Ticket price: 10 lei
Powered by MNAC
More
The Authors:
Ag Art, Alexandra Nacu Jewelry, Alexandru Lupu, Alina Carp, Alina Constantin Ceramics, Alis Lalu, Alisa Letsius Jewelry, Alja Neuner, Ana Marchetanu, Ana Oglejan, Anca Pandrea, Andra Lupu, Andreia Popescu, Angelina Tsvetkova, Arina Nitulescu, Asia Petrovam, Assamblage School, Atelier Jamais by Rada Ureche, BashoU, Blick / Evgeniya Tsancov & Yana-Tankovska, C14 / David Sandu/ Adina / Irina, Chan Po Fung, Chevalley Cedric, Cleopatra Cosulet, Corina Fakesch, Corina Mardari, Crissara Jewelry, Davide Zambon, Elin Flognman, Elisabeth Habig, eMe by Mea Batis&Nuša Bernot, Gi Jewellery by Isabela Groza, Hana Karim, A 47-a by Ioana Ardelean, Irina Moise, Iza Vişoianu / snob, Kalina Filcheva, Krama, Lauren Ryan, Liana Sălăgean, Lucienne, Maria Filipescu, Mariana Tănăsescu, Marie-Eve G. Castonguay, MaryG. Design, Moogu / Andreea Mogoşanu, Most / Monica Stănescu Jewelry, MyPrecious Buzztard, Neva Balnikova, Nevers & Nadja Zerunian, Noha Nicolescu, Odette Lupu, Omri Goren, Paul Popa, Petcan Adelina, Polina Dimitrova, Raluca Buzura, Romana Ţopescu, Sébastien Carré, Secarea Gabriela, Simeon Shomov, Simona Ghiga, Steffi Goetze, The Awesome Project, T-squared Tami Eshed, Utopic by Mona Vulpoiu, Vaggione Andrea,Velislava Bozhinova, Victor Pavlov, Vivasmith by Deborah Vivas, Ye-Jee Lee, Yossef Naor / Solo Line.
Scenography by RIZi Design.
Sala Dalles will be transformed with the signature design of the creative couple - naturally, love is the soundtrack - which combines architecture with design and nonconformist ideas in some of the most interesting urban projects (and not only) which you've seen in the last years in Bucharest.
Source & more info: www.dautor.ro