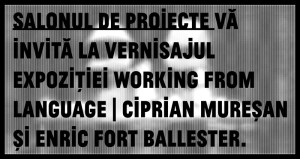 Art Show

Working From Language

Thursday, May 28th, 2015 – 19:00
Where
What
Working From Language
Artists: Ciprian Mureșan and Enric Fort Ballester
Opening: Thursday, 28 May, 19.00
28 May – 12 July 2015
Salonul de proiecte; MNAC Annex, 2nd floor
Calea Moșilor 62-68; Bucharest, Romania
Wednesday – Sunday / 10.00-18.00
More
Salonul de proiecte continues its series of exhibitions that bring experienced artists face to face with artists at the start of their careers.
This time, Ciprian Mureșan and Enric Fort Ballester were invited to develop a dialogue that involves the realisation of new works, presented alongside a number of existing works. The two worked together at the University of Art in Braunschweig (Germany), where Enric Fort Ballester was supervised by Ciprian Mureșan, who taught there for a year.
Ciprian Mureșan constructs a puppet play based on stories imagined by children in workshops held weeks before shooting the video. In this situation, the roles are reversed: whereas originally it was the children who improvised using the puppets, in the film puppeteers manipulate children-puppets according to the scripts constructed during the workshops. In the exhibition, the performance will be presented in the form of a video, and on 24 June the puppeteers will give a live performance of the action captured in the film.
In tandem with this work, the exhibition will also feature the film The Rhinoceroses (2006), which contextualises Mureșan's work with theatrical convention, as well as his reading of this convention through the filter of the language and behaviour of children. The gloomy vision of society to be found in the original play is temporarily suspended (or amplified, depending on the angle of interpretation) by a collective of children, who read the comical-absurd parts of the characters in the Ionesco play. We can find the same type of dramatic vision in the film Dog Luv (2009), where dog-puppets become the agents of a self-destructive human race.
A shared interest in performative practices associated with different forms of language, which are meant to destabilize and question the communication function of language, is what connects the two artists.
Enric Fort Ballester conceives a work setting out from recordings without sound, whose protagonists are people talking to themselves in public spaces. The final result, which consists in the fictionalisation of this material, will be presented in the exhibition alongside the intermediate working stages involving the decoding of these messages without any addressee, exploring the division between speaker and listener. Throughout the duration of the exhibition, new elements of this difficult and ambitious undertaking will be progressively unveiled.
The practices of the two artists converge in the adoption of working methods that consist in the staging of situations whose inherent quota of chance and unpredictability is processed via subsequent dramatization.
Fort Ballester's new project is complemented in the exhibition by a series of drawings and a film, works that convey the artist's interest in the accelerated precariousness induced by vectors of globalisation.
Ciprian Mureșan's new piece is co-produced by the David Nolan Gallery in New York and will be presented at this year's Art Basel in June.
Ciprian Mureșan (b. 1977) lives and works in Cluj; from 2005 editor of IDEA art + society magazine. In 2014 he was guest professor at Hochschule für Bildende Künste Braunschweig. His recent personal exhibitions include: Ciprian Mureșan, Ludwig Museum, Budapest (2015); Obstacle Racing, Hochschule für Bildende Künste Braunschweig (2014), Stage and Twist (with Anna Molska), Tate Modern, London (2012); Recycled Playground, on view successively at FRAC Champagne-Ardenne, Reims (2011), Centre d'art contemporaine, Geneva (2012), and Contemporary Art Gallery, Vancouver (2013), (2013); Ciprian Mureșan, n.b.k. - Neuer Berliner Kunstverein, Berlin (2010). Selected group exhibitions: HOTSPOT CLUJ - New Romanian Art, ARKEN Museum of Modern Art (2013); Six Lines of Flight: Shifting Geographies in Contemporary Art, San Francisco Museum of Modern Art (2012); Sounds Like Silence, Hartware MedienKunstVerein - HMKV, Dortmund (2012); The Freedom of Sound. John Cage behind the Iron Curtain, Ludwig Museum, Budapest (2012), Les Promesses du passé, Centre Pompidou, Musée National d´Art Moderne, Paris (2010); The Generational: Younger Than Jesus, New Museum, New York (2009); The Seductiveness of the Interval, Romanian Pavilion, The 53rd Venice Biennale (2009).
Enric Fort Ballester (b.1987 in Benifairó de les Valls, Valencia, Spain) has been living in Braunschweig, Germany, since 2009, when he started studying at the Hochschule für Bildende Kunste. Enric Fort Ballester has been performing and exhibiting his work internationally in different performance festivals and galleries: Bel-Esse, Echo Echo Theater, London-Derry, Northern Ireland, UK (2014); Between the lines, Michaelis Gallery, Cape Town, South Africa (2013); Artist as Traveler, CalArts, Los Angeles, US (2012); Paersche, Künstlerforum Bonn, Germany (2012); Here & There, Now & Then, Atelier Thornfolger, Brunswick, Germany (2012); Looking for your speech, Manzara Perspectives Gallery, Istanbul, Turkey (2012); PAErsche, Orangerie, Cologne, Germany 2011; Performance Laboratorium 3, Linz, Austria (2011); European Performance Art Festival, Warsaw, Poland (2010), and Behandlungsraum, Friedericianum Kassel, Germany (2009), among others. Residencies: NRW Stiftung - HBK Stiftung, Istanbul,Turkey (2012) and Escola do Rio Amazon, Manaus, Brazil (2011).
Salonul de proiecte is a curatorial program of the National Museum of Contemporary Art Bucharest, initiated by Magda Radu and Alexandra Croitoru. The program focuses through exhibitions, presentations, and debates on the Romanian contemporary art, while positioning young artists' productions into a broader generational context, local as well as international.
Team: Magda Radu, Alexandra Croitoru, Ștefan Sava and Alina Bucur
Source:www.facebook.com/events/1027006890683195/