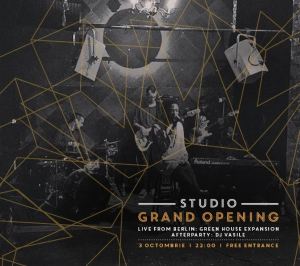 Party

Studio Grand Opening

Saturday, October 3th, 2015 – 22:00 – new club in Bucharest opening
Where
What
We just copied the message from the FB event:) Some drinks included :) Enjoy and see you there!
/////
"Please be invited at the
STUDIO GRAND OPENING Party
October 3 / 22.00 / Calea Mosilor 95

Live from Berlin for your soul delight: Green House Expansion with our beautiful special guest Christine Seraphim
Joel Holmes - keys
Martin Buhl Staunstrup - bass
Kuba Gudz - drums
Christine Seraphin - vocal

Followed by good old known DJ Vasile on mix who will make you dance until the sun rises and dances with us.

And for catching the Vibe right from the start, the first drink is on us!

Save the date 'cose it is going to be a great date!

FREE ENTRANCE, much Groove and as much Party as you can handle for you all!"