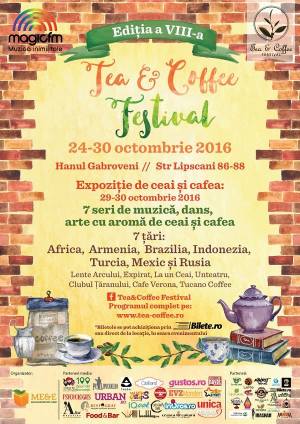 Festival

Tea & Coffee Festival in Bucharest

Friday, October 28th, 2016 – 10:00 – coffee and tea fair and exhibit+specific nights
Where
various venues

What
You love coffee or you love tea, or both!
It is quite cold outside in Bucharest these days, so if you want to warm a bit over a cup of exotic tea (or coffee!), Bucharest Tips recommends you an alternative way of doing it!
Instead of choosing a café or a teahouse and ordering your usual flavour, come in the Old Centre on 29th and 30th of October at Gabroveni Inn (Hanul Gabroveni), from 10 am to 8 pm, and discover the exhibition organized within the Bucharest's Tea & Coffee Festival.
Taste the newest coffee specialities and best teas, meet the barista specialists and find out useful tips!
You can also get back home with a souvenir: making and serving tea and coffee accessories.
FREE ENTRANCE!
BUT WAIT, IT ISN'T OVER!
After the exhibition, the festival organizers prepared some national specific nights!
28.10 – Turkish Night @ Clubul Taranului (7pm-11pm)
- Turkish music concert - Balkan Taksim
- Delicious Turkish kettle coffee
- Water drawings and other crafts workshops
- Designer fashion accessories
and more!!
Entrance fee: 35 lei
29.10 – Mexican Night @ Café Verona (7 pm-11pm)
Celebrate Dia de los Muertos (Mexican Halloween) with Mexican atmosphere:
- facepainting and Frida style hair works
- pinata decoration workshop
- designers' corner with handmade fashion accessories (lots of colours!)
- Mexican songs reinterpreted by a Romanian singer and her band
- special Mexican coffee and drinks
Entrance fee: 35 lei
30.10 – Indonesian Night @ La Un Ceai (7 pm-11pm)
This exotic night brings you the famous Indonesian coffee as well as jasmine and green tea, all flavoured with:
- Fashion accessories inspired by Indonesian crafts
- Traditional crafted objects exhibition
- Jewellery crafting workshop
- Indonesian film screening -"Bulan di atas kuburan" ("A moon hangs above the graveyard")
Entrance fee: 30 lei