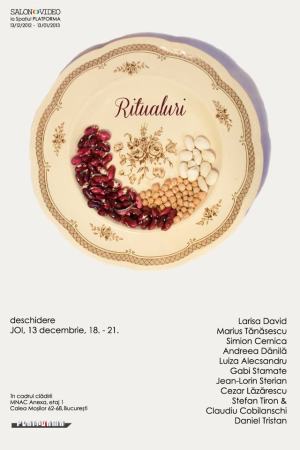 Art Show

Rituals – a Bucharest Video Salon

Thursday, December 13th, 2012 – 18:00 – Video Salon Opening – Rituals @ Spatiul Platforma (MNAC Annex building)
Where
What
Contemporary artists participating with their works:
Luiza Alecsandru, Simion Cernica, Larisa David, Andreea Dănilă, Cezar Lăzărescu, Gabriel Stamate, Jean Lorin Sterian, Marius Tănăsescu, Ștefan Tiron & Claudiu Cobilanschi, Daniel Tristan, Ovidiu Hulubei
The video art works are brought together following a public call and are approaching the theme (Ritual) from different directions.
More
VIDEO SALON platform aims exposing video art through a constant and accessible program, initiated and organized by Daniela Pălimariu and Dan Băsu. It happens every three months, in different locations and searches new form of presenting and interrogation of the video art. It is a platform for showing and experimenting with video art, primarily open to artists from Romania.