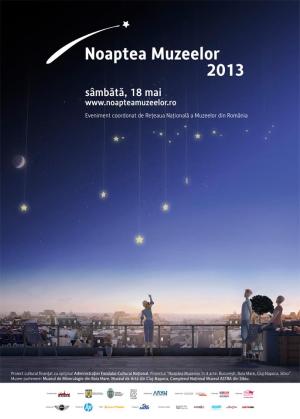 Festival

Night of Museums

Saturday, May 18th, 2013 – 00:00
Where
Different locations in Bucharest

What
Night of Museums
During the night of May 18th 2013, museums of Bucharest will await visitors with the regular and special exhibitions, concerts, dance, theater, movies and interactive events.
Visitors may choose to either spend their night between the 18th and the 19th going through museums and cultural organizations that have already instilled a tradition when it comes to celebrating the Night of Museums, or visit cultural organizations that joined in 2012 or just this year.
In order to plan out much easier their own possible itinerary, the visitors are kindly invited to use the maps containing the Night of Museums program in Bucharest (available in Romanian).
The maps are printed within the project "Night of Museums in four acts: Bucharest, Baia Mare, Cluj-Napoca, Sibiu", coordinated by the National Network of Romanian Museums.
Cultural project funded by the National Cultural Fund Administration.
Museums:
The Art Museum "Vasile Grigore"– painter and collector
"Dumitru Furnică-Minovici" Museum of Western Art
Bellu Museum
Romanian Railway Museum (NEW)
National Military Museum "King Ferdinand I"
Bucharest Municipal Museum: main location, "Theodor Aman" Museum (NEW), "Vasile Urseanu" Observatory, The Old Princely Court
National Museum of Contemporary Art
National Museum of Art of Romania
Aviation Museum
Cotroceni National Museum
National Museum of Geology
"George Enescu" National Museum (Bucharest, Sinaia, Tescani)
National Museum of Maps and Old Books
"Grigore Antipa" National Museum of Natural History
National Museum of Romanian History
National Museum of Romanian Literature
National Museum of Firemen
"Dimitrie Gusti" National Village Museum
"Dimitrie Leonida" National Technical Museum
National Museum of the Romanian Peasant
Cultural organizations:
National Archives of Romania
"Carol I" Central University Library
Art Society Cultural Center
Animal Farm (NEW)
Löwendal Foundation
Galateca Gallery (NEW)
Romanian Design Week - Ştirbei Palace (NEW)
"Spiru Haret" University
World Press Photo Romania - Universității Square