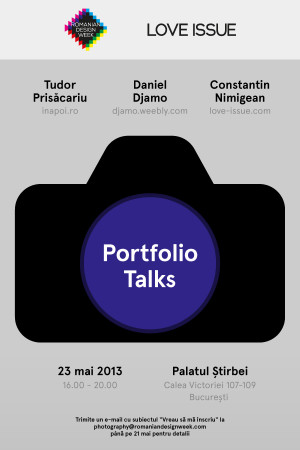 Conference

LOVE ISSUE Portfolio Talks

Thursday, May 23th, 2013 – 16:20 – meet the photographers and talk about your portfolio
Where
Stirbei Palace
107-109 Calea Victoriei, Bucharest
What
LOVE ISSUE Portfolio Talks
Let's meet and talk about your photography!
Who will review your portfolio:
Tudor Prisăcariu – www.tudorprisacariu.com
Tudor Prisăcariu is a Romanian photographer and digital designer/developer. He was born in 1984 in Bucharest, Romania, where he lives and works. Tudor enjoys taking long distance walks and documenting what he sees through photographs. He traveled around Romania in summer 2007 (www.entropy.ro), circled London in 2011 (loop.tudorprisacariu.com) and is currently systematically documenting Bucharest (www.inapoi.ro).
He also created and curated two online creative platforms dedicated to photography and visual arts in Romania: www.camera80.ro (2006-2009) and www.incotro.org (2009-2011).
Daniel Djamo – http://djamo.weebly.com
Daniel started taking photos when he was small with his mother's Smena film camera and didn't stop ever since. He came in full contact with the Romanian art scene in 2009, when he started the Masters in Photo-Video, at the University of Fine Arts, in Bucharest, Romania (UNARTE). He left his job as reporter for a Romanian sports newspaper in order to follow what he felt was right for him. Some of his works are in private collections in Germany and France."
Constantin Nimigean
Constantin started Oitzarisme.ro in 2007 with a clear purpose to have a personal blog where he would feature personal photos and short texts. Step by step it became one of the most inspirational photography blog from Romania with articles regarding only photo-projects from all around the world. In January 2011 he also started Love Issue, an online magazine written in English , a product of his blog which became a printed photo-magazine in November 2012 after a crowd funding campaign on Internet. Recently he published Love Issue #8 that you can flick through at Romanian Design Week.
Both Tudor and Daniel previously organized portfolio reviews and are ready to answer any questions and Constantin Nimigean saw thousands of photography projects since 2007, when he started Oitzarisme and also printed and curated photography in Love Issue.
This is how we do it:
Tudor Prisacariu will review the participants' online presence (digital portfolio, project websites, etc.) and will offer support and advice on the spot.
Daniel Djamo will review from the art student's / artistic point of view and will give tips on how you can thoroughly study photography.
Constantin Nimigean will tell you all you need to know in order to start your photography project and where to apply, who to call if you want to have your project showcased around the world.
Where you can apply for the review: [email protected] until May 21st where you will send us your name, your website and your option on the reviewers (you can choose the reviewers – one, two or all of them). Every meeting will last 20 minutes per reviewer. Every participant has to come with their own support for the portfolio (laptop, tablet, printed photographs…)
Note that we will stop the entries if we reach our time limit).
Meet you there!