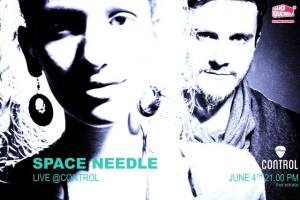 Concert

Space Needle - live

Tuesday, June 4th, 2013 – 21:00
Where
What
SPACE NEEDLE grunge concert
free entrance
SPACE NEEDLE (Bucharest,RO) – Symphonic Electronic Grunge – brings the grunge in town!
SPACE NEEDLE aka Purje is Alex Purje's solo project featuring world wide talented artists.
SPACE NEEDLE's main purpose is making everyone acknowledge that the grunge scene is still worldwide active, continuing the legacy of the genre's pioneers, such as Alice in Chains, Pearl Jam, Nirvana, Soundgarden, Stone Temple Pilots and many others, bringing today's touches to the unmistakable sound of the 90's.
The concept and the core itself belong to Alex Purje (vocals, guitars), but the final product is the result of the collaboration with several known musicians from Romania and abroad. Ionuț Geambașu – Shiftjam is one of the project's key elements.
Space Needle's first album is starting to take shape, the first step being already made by releasing the first single, 'Lighten Your Hearts'. The future reserves numerous surprises, including the release of the second single entitled 'White Cow' and the first official video for this song. And this is just the beginning! More stuff will come until the band's big release.
Alex Purje is one of Romania's underground scene most important figures, being a member of well known bands such as nOciv, Ten, Redrum (Alice in Chains tribute band) and Rain District. We don't want to bore you with unimportant details like birthdate, birthplace, kindergarten, high-school sweethearts, college reunions and shoe sizes and we'll fast forward to the musical background.
Alex first contact with music was in high-school, when he started playing guitar in a band named Sacru, in Campina, his hometown.
The first notable project was XXX, with Ionut Bulmaci on keyboards and programming and Andreea Stirbu on voice. The trio released an album called 'Windows of my heart' and had a one month tour in Turkey.
After moving to Bucharest he took another step forward by joining Janin Pasniciuc and Andrei Dinescu in an electro-industrial-alternative band named Ten with whom Alex released an album, one of the first released singles being "Albastru" - http://www.myspace.com/music/player?sid=9339797&ac=now .
The next step in Alex's career is his first important project entitled nOciv, a band formed in 2003, with Alex joining later on vocal duties. The band featured with the song 'Taci' (http://www.youtube.com/watch?v=ebxLFehDYCo ) on two compilations (Afront, Afront 2) released by Roton in 2005, respectively 2006. The last known line-up was Alex (vocals), Dan Leahu (guitars), Andrei Petrila (drums), Bogdan Crucianu (bass). Before splitting, the band managed to become an important name in the Romanian rock scene.
Later on, Alex, known for his passion for grunge music, decided to start an Alice In Chains tribute band, in order to pay his respect to Seattle's musical scene, especially Layne Staley (http://www.youtube.com/watch?v=hrALoCAVyTI). He gathered a few important musicians from Romania such as Cezar Popescu (Vita de Vie), Andrei Filip (El Negro, Manfellow), Razvan Ristea (Luna Amara, Shadowbox, NIN Tribute) also featuring other known Romanian artists. The project was named Redrum, and quickly gained notoriety among music enthusiasts in Romania.
Although currently on hiatus, Alex's following project, Rain District, is still one of the most appreciated bands in Romania. Everything started when he met Stefan Panea(Rain District, Mediocracy,Environments) at a local concert, and after a few drinks, they exchanged their myspace profiles and everything was set. Alex replaced their old vocalist and after jamming, the band started recording and released 'Sounds I Hide' in October, 2009 (http://www.youtube.com/watch?v=HeE4JXFt7XY&feature=relmfu). This was much more than a band, the quartet, completed by Alex 'Para' Ghita (drums) and George (bass), living as a true family, sharing the same apartment for a long period of time. It's fair to say that the connection between them can be felt through their music.

Alex's first solo project was also born from his love for grunge. One day, he had a revelation and suddenly decided to play a gig in a local pub called "Underworld" on 16th March 2012, where his Rain District ex-band mate George was employed. Although he had already written a couple of songs in the past few years, most of the songs that featured on the playlist were written in the week the concert took place. The band's name was chosen from two alternatives, "Space Needle" and "Emerald City", both having a link with Seattle, also known as the birthplace of grunge music. The first show took place under the name "Space Needle aka Purje", revealing a new musical style for Romania, which he called acoustic grunge.
The new project's first step was the collaboration between Alex and Ionut Geambasu – Shiftjam (http://shiftjam.com/), who also worked in the past with artists such as Loredana, K-Gula, Da Hood, Blanoz and Endless Zone, providing keys for the tracks. The two first met during a jam session while Ionut was still living in Bucharest, and after Alex recorded a song with a digital recorder, he sent Ionut his work. With Ionut having recently moved to the UK, they started working via internet. In order to have something to work with, Alex recorded the vocals and the guitar parts for his soon-to-be first single with Cristian 'Cristache' Dunarintu in his own basement. Ionut leaves his mark on the track by providing the additional orchestration with a slight hint of electronic music. The result was more than satisfying so they gave up the idea of entering a studio. The track was sent for mixing to Gigi Catrina and then for mastering in the USA, to Cristian Varga (Master Vargas). Their efforts concluded into the first song entitled 'Lighten Your Hearts', a song inspired by the movie Alex just finished working on, "Hatfield's & McCoy's" - http://soundcloud.com/spaceneedlemusic .
Towards the end of March, Ionut paid a short visit to Romania, the two took advantage of the situation and started rehearsing. Some new songs took shape, and the first electronic gig, on which Ionut featured for the first time as a live member, was scheduled in Fire Club, Bucharest (http://www.youtube.com/watch?v=A4SfloPNTBA). After Ionut returned to the UK, Alex continued with Space Needle as an acoustic grunge act for the next few gigs that took place in Bucharest, without ending his work with Shiftjam through the internet.
The live performances didn't stop here, Alex asking Nick Fagadar (Luna Amara), to join him on a mini-tour in Cluj Napoca and Tirgu Mures. The tour's concept was "One man, one mic, one guitar", Nick also presenting his solo project, "Autumn Hotel".

Featuring artworks by Costin Chioreanu and under the "We Die Young Productions" label, the first single entitled "Lighten Your Hearts" was released in both physical and digital format on 26th May 2012, live in the Blu'zz Pub, Bucharest. Meanwhile, the project went on with other artists joining Alex in the rehearsal room, but also with Alex playing a couple of live shows, in Vama Veche and Bucharest.

During this time, Alex started recording Space Needle's first album at Next Dog Studio (http://www.facebook.com/NextDogStudio), releasing a sneak preview with footage from the recording sessions - http://www.youtube.com/watch?v=XTJR_fqoGnE&feature=player_embedded.
With Shiftjam back in the frame, the work for the next single "White Cow" began, an official video release being planned for this second single. Space Needle is also scheduling a couple of shows, featuring several other musicians.
Stay tuned, as a lot of new Space Needle stuff will soon be available via www.spaceneedlemusic.net . Grunge'n'Roll!