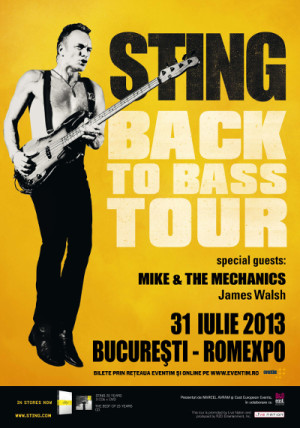 Concert

Sting returns to Bucharest with Back To Bass Tour

Wednesday, July 31th, 2013 – 00:00
Where
ROMEXPO
65-67 Marasti Blvd, Bucharest
What
Sting / Mike and the Mechanics / James Walsh
Sting returns to Bucharest with Back To Bass Tour
The tickets prices (available on eventim.ro):
Gallery/Chairs – 479.25 lei
Golden Circle (promo) – 272.64 lei (for the first 2,000 tickets, then 340.8 lei)
Silver Circle (promo) – 204.48 lei (for the first 2,000 tickets, then 255.6 lei)
General access (promo) – 144.84 lei (for the first 2,000 tickets, then 181.05 lei)
Official - http://ddee.ro/event/sting-mike-and-the-mechanics-james-walsh/
Following the critical and popular success of Sting's 2011-2012 world tour throughout North America, Europe, the UK, South Africa, and Asia, Live Nation is pleased to announce that the Back to Bass tour will continue this year, with Sting performing many of his greatest hits, stripped down, with a 5-piece band.
The tour starts in May in North America and will arrive in Europe in July, with shows in Sweden, France, Germany, Norway, Italy and Romania. The concert in Bucharest will take place on 31st of July, at Romexpo venue and it is organized by Marcel Avram and East European Events, together with D&D East Entertainment.
The Back to Bass tour has garnered spectacular reviews around the world:
"Sting brushes time aside in sublime performance." – The Boston Globe (October 24, 2011)
"A better 'Sting' than ever." - Nice Matin (November 13, 2012)
"The concert of the year." - Korzar (November 18, 2012)
"His concert was a musical masterpiece." - Onet Muzyka (November 22, 2012)
Sting will be joined by his longtime guitarist Dominic Miller , Vinnie Colaiuta (drums), David Sancious (keyboards) Peter Tickell (electric fiddle), and Jo Lawry (vocals).
Composer, singer, author, actor, activist - Sting was born in Newcastle, England before moving to London in 1977 to form The Police with Stewart Copeland and Andy Summers . The band released five albums, earned six Grammy awards, and in 2003 was inducted into The Rock and Roll Hall of Fame.
Since 1985, Sting has released 13 solo albums. To commemorate the 25th anniversary of his solo career, 25 Years, the definitive box set collection and the double disc, The Best Of 25 Years were released. Sting 25, the free iPad APP, which was awarded the prestigious Cannes Lion for Best Design/Aesthetic at the Cannes Lions International Festival of Creativity, is also now available on iTunes and features exclusive all-star performances from his 60th birthday benefit concert, plus rare interviews, photos, music videos, and more.
Sting has sold nearly 100 million albums from his combined work with the Police and as a solo artist and has earned an additional 10 Grammy awards, a Golden Globe, an Emmy, and three Oscar nominations.
Mike & The Mechanics and James Walsh, opening acts for Sting concert in Bucharest
Mike & The Mechanics was born in 1984, at the initiative of the founder member of Genesis, Mike Rutherford. The band started playing with two vocalists: Paul Carrack and Paul Young.
The first release of the band was in 1985, with the album Mike + The Mechanics, with two hits: Silent Running (On Dangerous Ground) and All I Need Is a Miracle. In 1988, the band released The Living Years, an album with great world success, especially due to the hit with the same name.
Two other studio albums followed: Word of Mouth (1991) and Beggar on a Beach (1995), which increased the band's success, becoming one of the most respected and praised rock bands.
Both albums have produced big radio hits, such as Word of Mouth, Over My Shoulder, Another Cup of Coffee and Beggar On A Beach Of Gold. In 1996, the band released the album Hits. In 1999, a new material was released, Mike & The Mechanics (also known as M6, being the 6th album of the band).
The sudden death of one of the original singers, Paul Young, needed a period of adjustment but, after one experimental album with Paul Carrack as the only vocalist, Rutherford changed the face to the band recruiting two new singers, Andrew Roachford and Tim Howar. While the album including their most famous song, Living Years, celebrates its 25th anniversary, Mike & The Mechanics are still hitting the road, to the pleasure of the fans worldwide.
James Walsh is an English singer, songwriter, guitarist, pianist and former frontman of the band Starsailor.
In 2009, he started recording his first solo album, working with American songwriter and singer Suzanne Vega. His first solo EP, Live at the Top of the World was recorded in Tromsø with a chamber orchestra from Norway, and was released in November 2010. He has also contributed to a mini-album Robotic Heart Foundation by Nikolaj Torp Larsson and Andreas Olson, after he met them at a studio when working on a film. Larsson and Olson have continued to work with Walsh on his debut album, which is expected to be released in 2011.
Recently, Walsh has worked together with Belgian band Andes on the song "één dag meer" ("One More Day").
Beginning of 2013, James Walsh released his first solo EP, Time is Nigh, a reflection over the last years of his life. With an acoustic guitar and some new very good songs, the artist is prepared to perform in front of the public from the entire world.