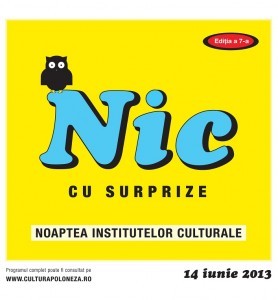 Festival

Night of Bucharest Cultural Institutes 2013

Friday, June 14th, 2013 – 16:00
Where
Various locations

What
British Council invites to the white night of literature, music and film, celebrating 75 years since its presence in Romania
17.00-20.00 – 75% off for British library subscription
20.15-21.15 – Book launch - "Istorii britanice în București" (British Histories in Bucharest)
21.30-23.30 – Games and interactive materials: British literature and music
21.00-21.15 - Fashion show (influence of the 30s on modern costume)
21.30-22.30 – British classical music concert - Benjamin Britten centenary (with Icon Arts ensemble)
22.30-00.30 – Movie screening
00.30-02.30 - Karaoke party (British music)
All day: Anniversary exhibit – 75 years in Romania
Czech Centre & Wallonia –Brussels Delegation
Two institute in the Czech centre building: Czech and Belgian videos, animation, Czech beer and Belgian goodies. + Cabaret and "tableau vivant" in the backyard.
20.00-02.00 – Czech and Belgian animation
21.00 - Not(e) Sisters (Vocal trio a capella)
20.00-02.00 - Ice Hockey
Czech and Belgian Videos
Screening on garbage bins
Tableau vivant (a project of Alexey Klyuykov and Ladislava Gažiová, Pole artistic group)
"Yunus Emre" Turkish Cultural Centre (96 Vasile Lascăr St., Bucharest)
Art workshops, movie screening, language course demo, culinary art exhibit.
17.00-18.00 – Language course demo
18.00-21.00 – Art workshops
- "Ebru" workshop (traditional water painting)
- "Blown glass Art" workshop
- Culinary Art exhibit (traditional food, tea and coffee)
22.00-24.00 – Movie Screening - My younger sister, Mommo / Kız Kardeşim Mommo (Turkey, 2009, 94 min., directed by Atalay Taşdiken, English subtitles)
European Public Space (31 Vasile Lascăr St.)
Painting art show opening, films screening
18.30 – Art show opening "Windows to Europe", in the presence of the Spanish painter Ima Montoya (fragments of European capital cities)
The exhibit can be visited by 12.07.2013
21.30 – film screening - The Snows of Kilimanjaro / Les neiges du Kilimandjaro (France, 2011, 90 min., directed by Robert Guédiguian) – winner of LUX Prize in 2011
00.30 – film screening Io sono Li / Shun Li and the Poet (Italy-France, 2011, 92 min., directed by Andrea Segre) - winner of LUX Prize in 2012
Balassi Institute- Bucharest Hungarian Institute & Polish Institute (8 Gina Patrichi St. - former Orlando St.)
Let's play together!
16.00 – Plastic games, Mechanical games. Don't play with the food! (small traditional food fair)
18.00 – Art shows – Logo variations, Sziget Festival photography (Konkoly-Thege György), press conference Sziget & Peninsula Festivals.
18.30 – Board Games
19.00 – Parafusions blues concert
20.30 – Traditional dances and medieval music with Codex ensemble and the vocalist Andrejszki Judit.
22.00 – Music and dance with Janusz Prusinowski Trio
01.00 – Film screenings
Holly business / Święty interes (Poland, 2010, 100 min., directed by Maciej Wojtyszko, Ro subtitles).
Cervantes Institute & Austrian Cultural Forum (38 Regina Elisabeta Blvd., Bucharest)
19.00 - Joyas musicales españolas – classic guitar and flamenco with Alexandru Munteanu (in program: Isaac Albéniz, Julián Arcas, Dilermando Reis, Paco de Lucía, Ernesto Lecuona).
20.30 – Film screening Aquí y allá (Spain, 2012, 110 min., directed by Antonio Méndez, English subtitles), in the presence of the director and the cinematographer, Barbu Bălăşoiu
21.30 – Film screening Spanien (Austria, 2012, 102 min., directed by Anja Salomonowitz, English subtitles)
23.00 – Short films screening
01.00 - Documentary screening Garbo, el espía (Spain, 2009, 93 min., directed by Edmon Roch, English subtitles)
Romanian Cultural Institute (38 Aleea Alexandru )
18.30 – Romanian language for foreigners demo lesson
19.30 – Made in Ro object design and traditional Romanian blouses exhibit and literature contest: Stories about the Romanian blouse
21.00 – Piano recital: Teo Milea
22.30-01.00 – the most recent Romanian short films at Cannes: Romanian Short Waves 2013
Digital and cultural
FABLAB demo, robots - Atrium
Writing workshop - 1st Floor with David Meulemans, the creator of DraftQuest
18.30 – Launch of the new portal of the French Institute - Culturethèque
18.30-23.00 – Games, contests, workshops for kids, prizes
19.30 - ROMANYEAH! by Cinty Ionescu - Elvira Popescu
LIVE AUDIO-VIDEO PERFORMANCE - 58 minute
Cinty Ionescu - live video
Nicoleta Lefter - performer
Mandela Gajol - live instruments
Brennan Green – sound design
21.00-24.00 – Poetic Sofa
21.00-02.30 – Digital animation shorts screening
24.00 - Video-audio live-session with VJ Minu (50 minutes)
Goethe Institute & French Institute (Control Club)
22.00 - "Das Kapital" (Hanns Eisler)
Concert Edouard Perraud (France), Hasse Poulsen (Denmark), Daniel Erdmann (Germany)
Italian Culture Institute (41 Aleea Alexandru )
20.30 – Jazz concert
22.30 – Film screening Nessuno mi può giudicare / Escort in love (Italy, 2011, 95 min., directed by Massimiliano Bruno, English subtitles)