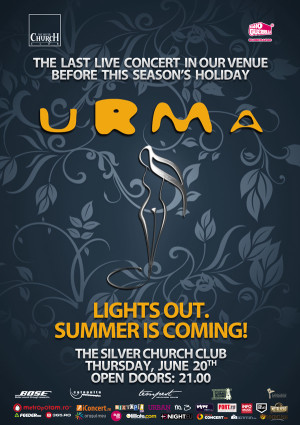 Concert

URMA live

Thursday, June 20th, 2013 – 21:00 – Alternative rock concert
Where
How much
20 LEI
What
URMA live in concert (RO, acoustic alternative rock)
Urma began as a simple journey, one day in the spring of 2003. It pretty much resembles a road-novel. Between destinations and among thousands of miles, it took the time to throw unique live performances, compose and record for the three albums it has released until now.
- December 2004 – "Nomad Rhymes"
- October 2005 – "Anger as a Gift"
- December 2007 – "Trend Off".

The third one, "Trend Off"is now available for you on iTunes.
11 musicians put their hard work into recording the album and a highly appreciated Romanian photographer, Cosmin Bumbut is responsible for the photos in the presentation booklet. The album was mastered in Freiburg, Germany and its high quality runs under no doubt, both musically and visually speaking.
In 2009, Urma starts playing again and prepares for their 4th album, "Lost End Found". A puzzle-concept album, which will be available to the public on the band's official website www.urma.ro. The tunes will be available the moment they are recorded, so that the audience can collect all the "puzzle pieces" one at a time.
During its existence, Urma gave hundreds of live performances in Romania, Hungary, France, Germany and Switzerland and was invited to various national and international festivals. Its public is diverse, but mature and loyal. Like music, like public.
The musical equipment used by the band is one of high performance, the revolutionary BOSE L1 individual amplification systems. Urma's concerts respect the public by giving the best out of them, whether it regards the music, the words, the performance itself, the technical equipment or the visuals.
The first single from the ''Lost End Found'' album, named ''Terminus'', was nominated seven weeks in a row as Number One in the international Radio Guerrilla top chart and gathered more than 170.000 views on Youtube since its launch.
On 25th of March 2011 Urma released the second single from ''Lost End Found'' with a special event hosted by The Ark / Bucharest.
The fourth album is planned to be released soon, a Live DVD being also currently in production.
For more details please visit Urma official website.