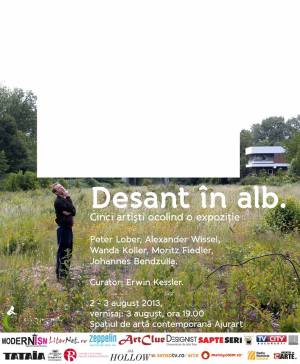 Art Show

Desant în alb / Raid in Blank

Friday, August 2th, 2013 – 19:00
Where
What
Desant in alb/Raid in Blank art show in Bucharest
Five artists avoiding an exhibition: Peter Lober, Alexander Wissel, Wanda Koller, Moritz Fiedler, Johannes Bendzulla.
Curated by: Erwin Kessler.
Opening: Friday, 2 August, 7 p.m., Aiurart
Closing: Saturday, 3 August

The five young German artists have been working together for many years, without forming an art group, however. Shying away not only from this title, but from the whole set of aspirations, illusions, addictions and restraints imposed by an art group structured as such, they have always preferred to collaborate within projects and events that would not affect their individuality but which kept their spirit alive, the ferment of the collective commitment towards a direction that may have proven obscure as goal, but which was fervently shared. Working in entropic combinations of twos or threes, not always the same, they have set up a Brownian network of artistic movements and gestures, an impressive series of actions, events and exhibitions that may seem disorienting for those looking for a unique thread, a common ideological platform that would connect the neo-Dadaist electro-punk-rock type of performance of the Lederlust group (Moritz Fiedler and Alexander Wissel), the metaphysical incision of Peter Lober's post-conceptualist textual-visual statements, the exhausting apocalyptic cabaret of the Single Club (orchestrated by Alexander Wissel over the past two years), the visually and acoustically disempaired choreography of the Wanda Koller / Moritz Fiedler couple, or Johannes Bendzulla's calligraphic scanning.
Together for the first time in Bucharest, the five friends launch a total Blitzkrieg, an event bringing together installations, photography, music and the performance to produce that unique trademark of their common actions, resulting from combining a "weak" concept of art with a "strong" concept of being positioned in the present and of finding oneself in the act as art. Descending from, but also at the opposite end of the "total work of art" concept, their endeavour nurtures on the paradoxical atmosphere of the current lifestyle art, one that is withdrawn both from consumerism and pathos, from the intellectualist estheticism and political criticism, but is touched by energy, dismay and idea. Freed form the prejudice and the norms surrounding contemporary art, freed from the artificial rigour of the "projects", of "social implication" and "critical analysis", their art takes on the (nowadays) difficult appanage of the gratuitous. Fresh and unselfconscious, their assault in blank pinpoints the degree zero of contemporary artistic freedom.