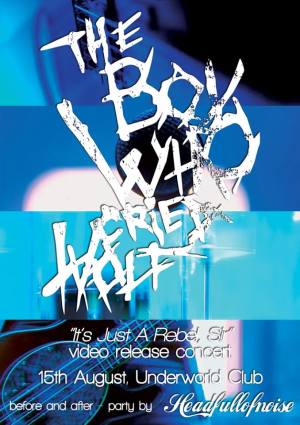 Concert

" It's just a rebel, Sir! " @ Underworld Club

Thursday, August 15th, 2013 – 20:00 – The Boy Who Cried Wolf - Video release concert
Where
How much
0 LEI
What
The Boy Who Cried Wolf started their activity as two local bands from Bucharest collided ( CHESTER & Breathelast ), and Bogdan and Mihai gave it a sincere go to writing some tunes that would better react to their primal needs to play some wild , fast paced metal, inspired by old school metal combined w/ Hardcore / Punk vibes.
Band interests:Howling and chasing people through dark forests. So free your mind!
More
Tonight, they will record ,with the people coming to support the wolf pack, one new clip also.
The Boy Who Cried Wolf - a traditional hardcore sound with some monstrous Southern-metal influenced riffing.
"Bad Time Stories" is their first release and can be downloaded freely. It was recorded, mixed and mastered by Marius Costache at Next Dog Studio. Artwork by FRAM.
Members:
Alex - Drums
Bogdan - Guitar / Vocals
Şerban-Ionuţ - Bass
Mihai - Vocals