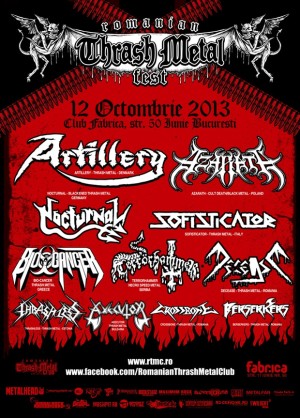 Festival

Romanian Thrash Metal Fest - 2nd Edition @ Fabrica, Bucharest

Saturday, October 12th, 2013 – 19:00
Where
What
Romanian Thrash Metal Fest had its debut last year, headlined by the British thrash metal band Onslaught, which played the historical album "The Force" (1986) in its entirety for the first time.
On the same note, this year, on October 12th, RTMC presents another benchmark band for the global thrash metal scene, this time for the first time in Bucharest and Romania.
Artillery, the Danish heavy/thrash metal combo will headline the Romanian Thrash Metal Fest with a 90-minute show based mainly around the historical "By Inheritance" album of 1990!
Azarath, the Polish death/black metal legend at the Romanian Thrash Metal Fest 2nd Edition!
More
Romanian Thrash Metal Fest 2013, The 2nd Edition, will take place Saturday October 12th, at Club Fabrica (11 Iunie Street, Bucharest) with a line-up of up to 11 bands from 9 countries:
Artillery – heavy/thrash (DK)
Azarath – death/black (PL)
Nocturnal – thrash/black (GER)
Sofisticator – thrash metal (IT)
Bio-Cancer – crossover/thrash (GR)
Terrorhammer – speed/black/punk (RS)
Decease – thrash/death (RO)
Thrashless – thrash/death (EST)
Axecutor – thrash/black (BG)
Crossbone – crossover/thrash (RO)
Berserkers – thrash metal (RO)
To go along with the musical event of that day, Romanian Thrash Metal Club prepares the 5th edition of the merchandise fair tRock.
This year, the access to tRock, which will share the same location as the Romanian Thrash Metal Fest, will be available only with a valid ticket for the festival.
Exhibitors that would like to participate are kindly asked to state their intent by an email at [email protected]
The price of a ticket is 65 lei, until September 30th.
Starting with October 1st, until the festival day, the price will be 80 lei.
Tickets can be purchased from:
Club Fabrica – 50 11 Iunie Str, Bucharest – ask at the bar
Club Private Hell – 91 Calea Grivitei Str, Bucharest– ask at the bar
Titus Constantinescu – +40722 814 991
Online from www.iabilet.ro and www.metalhead.ro/bilete – you can order either printable e-tickets or normal tickets by cash payment at arrival or payment order. For payment at arrival or payment order, please contact us at contact[at]iabilet.ro or +40741272967 (09:30 to 18:00, Mon-Fri).