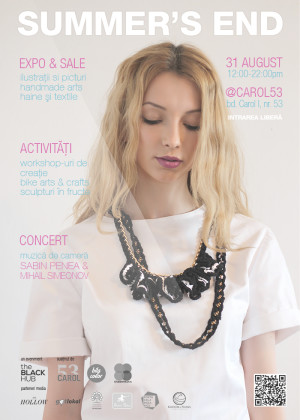 Fair

"Summer's End" @ Carol 53

Saturday, August 31th, 2013 – 12:00 – Expo & Sale
Where
How much
0 LEI
What
If you you like things in limited edition, come on august 31 at "Summer's End" Expo & Sale, an event which brings together artists, illustrators and designers of hand made objects.
Creative workshops:
The organizers will provide paper and crayons, and you can free your mind . You're going to have next to you many artists that will walk with you among the shapes and colors and will give you inspiration and tips for beginners.
Ilustrations Exibit:
Alina Panait // Andreea Roșca // Costin Moraru // Iuliana Vasile // Alexandra Aramă & Ada Barbu // Dana Schrenck
Handmade Arts:
Alin Dinică// Andra Cazacu// Diana Blajan// Romanița Blanca Cireș// Irina Ferche & Andra Apostolescu// Crina Curtescu
Textile:
Anca Untu// Ada Taleb// Mihaela Bondalici// Viorela Popa;
Fruit Carving Claus
Bike Arts & Crafts
Chamber music CONCERT Sabin Penea & Mischa (18:00)
Event organized by The Black Hub
The Black Hub is a startup specialized in the visual arts and a one stop destination for brands and individuals looking for a helping hand with anything creative.