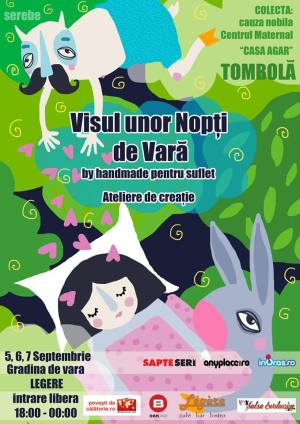 Fair

The Summer Nights Dream @ Legere

Thursday, September 5th, 2013 – 18:00 – Support Maternal Center "Casa Agar"
Where
Legere Garden
5 Rosetti Square, Bucharest
What
On the 5th, 6th and 7th of September, Legere Garden is the space in which we put in the scene "The Summer Nights Dream", from 18:00 until late at night.
"The Summer Nights Dream" by Handmade pentru Suflet is an event that supports Maternal Center "Casa Agar", the goal of which is to reintegrate in the society and support moms and kids who are going through hard times.
Celebrate the end of summer in Bucharest, with good music, bio and handmade goods, with creative work-shops, awards and many other surprises. In the work-shop sites you can even create unique handmade accessories, under the careful guidance of the Bucharest handmade artists.