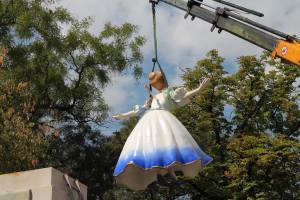 Art Show

SPAM Copy/Paste @ Carol Park

Tuesday, September 10th, 2013 – 18:00 – "Countess" by Ileana Oancea
Where
What
In the hope that Public Art in Bucharest will stop being megalomaniacal, eulogistic or commemorative, the SPAM statue plinth, situated next to the Arenele Romane from The Carol Park will host, during September 10-21 October 2013, the fourth contest winner project SPAM Copy/Paste-Countess, author Ileana Oancea.
" Frills were once respected artistic works, executed with artistry and carefulness. Over time, through their industrial reproduction by choosing some topics that have become facile, they have lost their artistic value. I chose to oversize, for SPAM a recognizable toy, a Countess, and to integrate it in the public space. My personal mark, on the copy of this trinket, is represented by the knife that the Countess has it in the back. A coup de grace given to the fallen art and kitsch in general. " (Ileana Oancea)
More
There are two existing statue plinths which are identical in Carol Park, one built in 1906 – which will host SPAM – and its copy located only a few hundred meters away, built in 2009. The copy was built as a new home for the 1906 bronze statue of Dr. Constantin Istrati –a Romanian academic- by Oscar Späthe. In an era dominated by the copy / paste phenomenon, SPAM invites you to explore the dualism of the above mentioned cloned plinths, and to explore the imagination, or lack of it, in Romanian society.
SPAM does not wish to be an underground or nonconformist space nor a Salon des Refusés, but a place where Art in Public Bucharest Spaces enters into a contemporary normality.