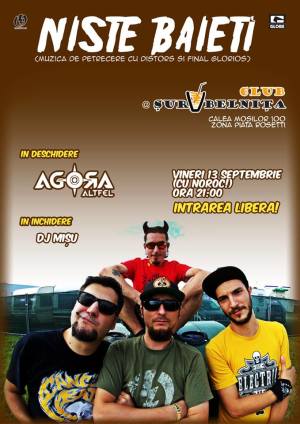 Concert

Opening of the Fall season @ Club Surubelnita

Friday, September 13th, 2013 – 21:00 – Punk Rock Party in Bucharest
Where
Club Surubelnita
100 Calea Mosilor St. Bucharest
What
Punk Rock concert & party with Niste Baieti the only Bucharest band that approaches the style of "party music with distortion and glorious end."
Niste Baieti - Punk Rock - Bucharest
Mihaiteanu Albert (vocals)
Niculae Barbu (bass)
Georgescu Gabi (guitar)
Modrea Andrei Dan (drums)
Opening act:
AGORA - Punkish-Jazzy-Reggae-Blues-Alternative-Rock-Ska - Bucharest
Surubelnita (The Screwdriver) Club tries to recreate the atmosphere of Vama Veche in Bucharest Historical Center. Find there the sand, fishing nets, lifebuoys, good music, happy people and hammocks.
Free entrence.