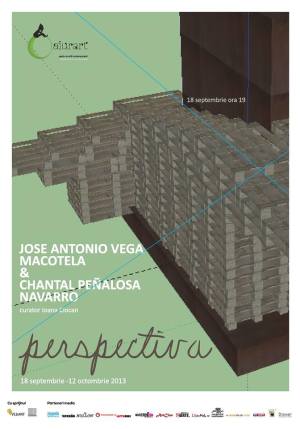 Art Show

'perspectiva' @ Aiurart

Wednesday, September 18th, 2013 – 19:00 – José Antonio Vega Macotela & Chantal Peñalosa @ Bucharest
Where
What
Antonio and Chantal have created for Aiurart the exhibition 'perspectiva'.
From September 18th through October 12 th, 2013 @ Aiurart Contemporary Art Space (Bucharest, 21 Lirei St.)
Opening: September 18th, 19:00 – 22:00.
More
I started my love affair with Jose Antonio Vega Macotela (b. 1980, MX) after I saw his Study of Exhaustion - The Equivalent of Silver (2011) at Manifesta 9 in Genk, Limburg, Belgium in 2013. For the chewed coca leaves, a 'boleos', Antonio Vega spent many days in Boliva, at the Oruro and Potosí mines. The chewed coca leaves blocks out the miners need for food, water and their fatigue, so they can work more. I immediately contacted him and started a friendship based on mining stories from Roșia Montană 'oh, si Ioana si, claro que si...they do this in Mexico too', trading of time vs. money, power structures like the plinth of Proiect 1990 or jail stories. Because Antonio has some of those stories too.
Antonio Macotela's work is multidisciplinary, site-specific and often engages particular communities such as prison inmates, soldiers, miners, etc.
Chantal Peñalosa's (b. 1987, MX) practice is focused on border and borders, north and south, prosperous economies and poor economies divided by the border line. Living her entire life at the beginning (or end) of Latin America, in the border city of Tijuana, Tecate, Chantal is in a constant exploration of homogeneous monocultures that are protected by borders. Being the third largest conurbation in the world, the Tijuana/San Diego area holds a special physical place on the whole 3110 kilometer Mexican/American border.
Ioana Ciocan, curator
A selection of Jose Antonio Vega Macotela's recent exhibitions: 13th Istanbul Biennial, (2013); Manifesta 9 (2013); Second New York Triennial (2012); Göteborg International Biennial for Contemporary Art (2011); Galeria Joan Prats, Barcelona, ES, (2011); Stedelijk Museum Bureau Amsterdam (2011); Honor Fraser Gallery, Los Angeles (CA), US, (2011); 29th Sao Paulo Biennial (2010); Third Moscow Young Art Biennial (2010).
A selection of Chantal Peñalosa's recent exhibitions: XVIII Bienal Plástica de Baja California (2011), Tijuana, MX; Sala de Arte Álvaro Blancarte, Tijuana, MX; Museo Emilio Bacardi Moreau Santiago de Cuba, CU (2008).