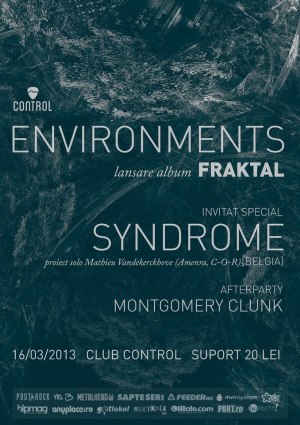 Concert

Environments album launch + Syndrome

Saturday, March 16th, 2013 – 21:00 – Post-rock, ambient, drone, experimental concert
Where
How much
20 LEI
What
Line-up:
ENVIRONMENTS (Ro) - album launch FRAKTAL
SYNDROME (Be) - a project which is fronted by Mathieu Vandekerckhove (Amenra, Kingdom, SemblerDeah, Caan, C-O-R)
After:
Montgomery Clunk
More
Environments is an experimental ensemble from Bucharest, Romania. It is primarily the project of Stefan Panea, who single-handedly composes all of the core arrangements. His arrangements are then disfigured, enhanced and re-recorded live with Alex 'Para' Ghita (drums) and Marius Costache (effects and noise).
As with most experimental projects, it would be wrong to pigeonhole their musical style into a list of subgenres. Their tracks don't cater to the normal structures involving verses, refrain and choruses, but rather tell a story through a plethora of unrestrained soundscapes.
It's like a vastness of noise being shaped into sound, in an acoustic reverie that is both uncanny and contemplative.
The project is already on its third release, following in the footsteps of the first two albums. The tracks are inspired by childhood memories, moments, books and places far away from the crowded Bucharest.

Their new album,"Fraktal", is available for digital download as well as on vinyl here:
---------------------------------------
Close to a decade ago a primitive form of Syndrome was brought to life as a vehicle for the solo output of Mathieu Vandekerckhove, mostly known for his work with Amenra,Kingdom,Sembler Deah,... For years the self-taught musician learned and studied his craft of songwriting and sound scaping, mainly as a means to self exploration, meditation and attempts at channelling negative into positive energy, this while staying below the surface at all times.
2012 marks a turning point for Mathieu Vandekerckhove and Syndrome as he steps forward, with the epic 28 minute long "Now And Forever". Dedicated to his son Wolf, this track offers words of guidance and will grant you a look into the heart and soul of the artist. Close your eyes and hear the beating heart of pure artistic freedom.