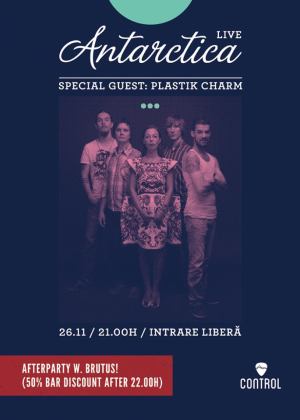 Concert

ANTARCTICA live! @ Control Club

Tuesday, November 26th, 2013 – 21:00 – Romanian Electro-Rock concert @ Bucharest
Where
What
Tuesday night November 26, emotronic, dream pop & alternative dance, electro-rock concert @ Control Club in Bucharest
Line up:
ANTARCTICA
Special guest: Plastik Charm
Antarctica is a Romanian band from Bucharest born in 2009.The band takes inspiration from the 80's synth pop, new wave and forward-thinking electronic sounds, crafting a sound that's equally unsettling, playful, and melodic.
Having a catatonic new age sound and a transcendent elevation, Antarctica delivers a new state of mind to the Romanian music understanding, past all doubt.
Plastik Charm is an electro-rock music band from Bucharest, playing a mixture of alternative rock, pop and electronic styles.
https://www.facebook.com/PlastikCharm
https://soundcloud.com/plastikcharm
Free Entrance