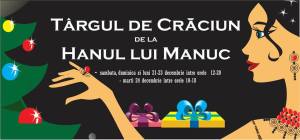 Fair

Christmas Fair at Manuc's Inn!

Saturday, December 21th, 2013 – 12:00
Where
What
Are you a tourist in Bucharest for the winter holidays? You want to find the perfect gift for your loved ones, something beautiful and original?
The Manuc's Inn (Romanian Hanul lui Manuc) Christmas Fair, in Bucharest Old Town, is a place to visit.
The Manuc's Inn Christmas Fair is open from December 21th 2013 to December 2 4th 2013, so there is plenty of time for you to sample contemporary Romanian designers, listen to Christmas carols and buy handmade souvenirs, jewelry, special clothing items for the end-of-year parties, shoes, special accessories, bags, toys, cosmetics and delicacies which can give an original charm to your winter holidays.
Interested in visiting Bucharest for the winter holidays? Book a hostel near this Christmas Fair.
More
Entrance fee 10 lei
The 10 lei ticket is actually a shopping voucher in the fair, which can be combined with other vouchers from friends who accompany you and by something, or can be used in the cafes and restaurants of Manuc Inn.