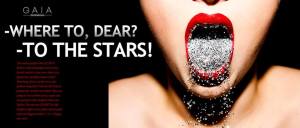 Party

To the stars! Party @ Gaia

Tuesday, December 31th, 2013 – 21:00
Where
What
New Year's Eve Party in Bucharest @ Gaia
You want a perfect start of 2014?
Butlers with champagne and caviar, French maids to wipe your shoes in a glamorous sparkly unique set up?
Dreaming of you on the cover of a fashion magazine? Have it all!
Gaia is putting the world at your feet!!!!
They are going to see us from space, because you are going to shine brighter than ever before!
You are our STARS!
For the brightest effect wear glitter and sequins and your biggest smile!
3, 2, 1...Happy new star!
Fees for tables:
450 Ron/person - Open Bar
600 Ron/per person- Open Bar + Gourmet buffet
Or, if you would like to stay at the bar and pay separate for your drinks you can just pay an entry fee of 150 Ron.
For reservations and any questions feel free to call +40 723 610 933