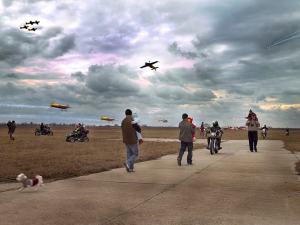 Art Show

Alexandru Paul - Hidden stories

Thursday, March 21th, 2013 – 19:00 – Art show opening - photography
Where
What
"Hidden stories" is a photographic project following the shows "Exhibitions" and "Transported people", which are used as a pretext to exorcize the photographer's specific voyeurism – in the first project the photograph is absent from the "execution" scene, while in the second one the presence intensifies to "steeling" the people intimacy from common transportation means. Searching for the intimate gesture is without any doubt Alexandru Paul's "graal". This search was digging into reality, with no restrait for the previous projects. In the "Hidden stories" series, the reality is a pretext for telling fears and interior obsessions more intimate and more real than any "situation catch". (Dan Popescu, curator of the show)
The photographer uses a tripod over a landscape and trigger when a human presence appears. He does that for an hour, and then recomposes the shot as in a collage, superposing all the human appearances in that particular landscape.
More
Alexandru Paul is a Romanian photographer born in 1971 in Baia Mare (northern Transylvania).
He worked as fashion and advertising photographer, as well as cinematographer. He were assigned for magazines like ELLE, FHM, ESQUIRE and many others, working especially fashion and portrait. He has also worked as cinematographer for music videos. At the same time he worked for personal projects and participate in some shows and exhibitions. In 2005 he founded a small agency, "Umbrela" which is the only agency representing photographers in Romania.
Selected exhibitions:
- 2009 – "Hidden Stories" – Basel Art Fair – Volta, represented by H'art Gallery
- 2008 – "Transported People" – photography, sound installation – Madrid, Photoespagna Festival, ICR Gallery –solo show
- 2007 – "exhibitions" – photography, installation – Bucharest, "H'art Gallery" – solo show
- 2002 – "Expozitie" – photography – Bucharest, "Central University Library Gallery" – personal exhibition
- 1999 – "Bucharest as pieces" – photography – Bucharest, National Museum of Art – personal exhibition