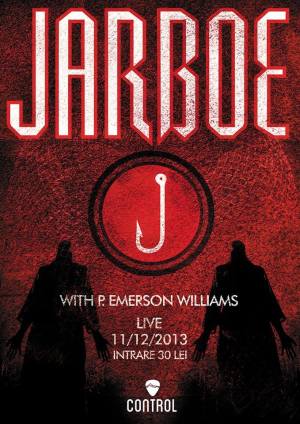 Concert

JARBOE live! @ Control

Wednesday, December 11th, 2013 – 21:00
Where
How much
30 LEI
What
Jarboe with P. Emerson Williams, concert in Bucharest @ Control Club; Wednesday December 11, 21:00
Jarboe's current performance is melodic and honest emotional vocals with solo acoustic guitar in raw "unplugged" rock based songs. The tour features songs from the 2013 selfreleased DREAMS cd, as well as songs from the INDEMNITY series.
Jarboe's current set features P. Emerson Williams on acoustic guitar and vocals.
Jarboe draws from a variety of charged sources: growing up in the Mississippi delta, New Orleans street life and Mardi Gras, parents in the FBI, experimental performance, living in NYC's east village in the post no-wave scene, studies in literature and theatre, a history of critically acclaimed recordings and collaboration in Swans and worldwide concerts (clubs, theaters, art galleries, cathedrals, festivals, live radio, TV).

The extensive eclectic roster of Jarboe's collaborators includes: Michael Gira, Phil Tan, Bill Laswell, John Fryer, Jim Thirlwell, Lustmord, PanSonic, Merzbow, Mark Spybey, Steven Severin, Chris Connelly, Alan Sparhawk, Neurosis, Edward KaSpel, William Faith, Monica Richards, David J, David Torn, Bill Rieflin,Iva Davies, Blixa Bargeld, Kris Force, Julia Kent, Zoe Keating, Anni Hogan, A Perfect Circle, Colin Marston, Cobalt, Cattle Decapitation, Byla, Justin K. Broadrick, Jesu, Peter Valsamis, Josh Graham, Philip Anselmo, Attila Csihar, Esoteric, Vampillia, and more…

Visual artists in film/photography/design including : Richard Kern, Marilyn Chen, Cedric Victor, Beth B, Laura Levine, Wim Van De Hulst, Rochelle Heagh Phister, Auriea Harvey & Michael Samyn, Mick Rock, Cameron Crowe.

Jarboe is featured and or referenced in several books including Catamania by Adele Olivia Gladwell, Angry Women In Rock by Andrea Juno, Take the Cannoli by Sarah Vowell...
Considered a true independent, and a featured panelist on "Artists and the Internet" at the CMJ convention in NYC, Jarboe has released 27 solo albums (and counting) in addition to working on 21+ Swans albums and 63+ collaborative projects with visual & sound artists all over the world and recorded albums in various countries, including England, Italy, Netherlands, Japan, and the Middle East.
www.facebook.com/TheLivingJarboe
Entrance 30 lei