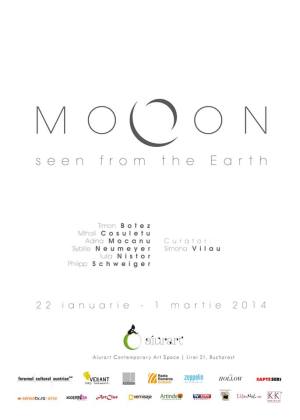 Art Show

MOOON

Wednesday, January 22th, 2014 – 15:00
Where
What
MOOON is an art project about the Moon and its image as seen from the Earth. The more that Fiction clings on to known, palpable things, the more it tends to turn into a phantasmagoria. The more it relates to strange, far-flung things, the closer they are brought to us. The artists find themselves in a situation where they have to imagine aspects of the Moon backed by doing research via their own experiences and other people's, too. Seeing something without touching it may often prove deceptive yet, this is where lies the challenge of this topic – a task that has been comprehensively analysed in Art History endeavours, ranging from Georges Méliès and the beginnings of cinematography to the A Trip to the Moon exhibition, curated by Fabiola Iza at Proyectos Monclova, in Mexico City, in the summer of 2013, or the Republic of the Moon by The Arts Catalyst, London (January, 2014).

MOOON brings together six artists from six different geographical areas, all of whom share a keen interest in both Science, as well as Fiction. Their discourses lie at the precipice separating science from fiction, truth from fantasy and the tangible from the evanescent. Their art works are mostly done in situ, after researching and exploring a host of mediums and ranges, often regarded as conflicting yet, somehow still managing to blend in into the final product, in novel and surprising ways.
The exhibition is being backed by a series of artist talks and the release of this event's publication, titled The Mooon Journal, created by Simona Vilau, the exhibition's curator.
Visiting hours: Monday - Saturday 15:00 - 19:00

Event's Schedule:

Wednesday, the 22nd of January 2014, at 7 pm – Opening

Saturday, the 25th of January 2014, at 4 pm – Sybille Neumeyer, Iulia Nistor – meeting the public. Moderator: Simona Vilău, curator (in the Aiurart attic)

Saturday, the 15th of February 2014, at 4 pm – Adina Mocanu, Mihail Coșulețu – meeting the public. Moderator: Simona Vilău, curator (in the Aiurart attic)

More
Timon Botez (b. 1973) is a Norwegian-Romanian artist educated in London and re-located from New York to Oslo where he is currently based. Through pseudo-scientific research, Botez explores the underlying behavioural patterns detected in his surroundings. His work lies in the intersection of technology and mechanics. For the past six years Botez has been working with sound and sculpture through conceptual compositions and orchestral installations. Like light, sound can be shaped and formed. Botez explores the space in front of a sound source by funneling and projecting the moving air as a way of sculpting audio waves. http://www.botezco.com/

Mihail Coșulețu (b. 1982) lives and works in Bucharest. Trained as a painter and spending most of his time painting, Mihail Coșulețu is a keen digital imagery and animation specialist. He explores fundamental geometry patterns, getting to create parallel worlds via the multiplication of a prism or a cube. His large-scale oil paintings sound out the imaginary architecture of possible towns and cities. His work as a graphic designer and illustrator has been noted in some of Humanitas Publishing House's audio and printed books. He brings to the Mooon Art Project a site-specific construction. For more details on that and more, please visit http://cosuletupainting.blogspot.ro/

Adina Mocanu (b. 1990) lives and works in Bucharest. She is a multifaceted artist amongst whose means of artistic expression one notes installations, performances, photography, video or drawing. Her projects include working with Alexandra Sandu, with whom she has worked together over the past years. Her works, often analytical and rigorous, are tenaciously investigating all boundaries whilst researching "demarcation" as a means to reconstructing the Universe. She brings to the Mooon Art Project, at the Aiurart Space, an in situ artwork.

Sybille Neumeyer (b. 1982) is a travelling artist, based in Berching, Germany. She is an adroit artist, amongst whose means of artistic expression one notes: design, video, photography, installations and drawing. Out of her numerous projects and residencies we mention here: the Schloss Solitude Scholarship (2011-12), POGON & The Museum of Contemporary Art Zagreb (2012-13) or the ARCUS Project, Moriya, Japan (2013). Her art focuses on the phenomena and structures available in nature and/or culture which are then translated into installations, video or paper works by using repetitions, archiving and collecting. She uses scientific practices and imagery as sources of inspiration. For more details on that and more, please visit http://www.sybilleneumeyer.com/

Iulia Nistor (b. 1985) lives and works in Nurnberg, Germany. She is an author of paintings, photography, drawings and installations. She is also reading for her PhD at the Regensburg University. Her art sets out to investigate the stimuli and the overlapping memory processes by applying that oh-so needed subjective filter over ambiguous imagery, that are apparently static as they frame a host of unhackneyed instances. Iulia Nistor uses contemporary technology and associates it to the intuition and the sheer fluidity of a profoundly philosophical discourse. The Moon Project is her third ever participation to an exhibition in Bucharest.

Philipp Schweiger (b. 1971) lives and works in Vienna. He is an author of painting, drawing and sculpture. He graduated from the Dusseldorf Arts Academy in 1997. His imagery is poetic and denotative as it manages to intercept truly spectacular instances of an apparent muteness. The stillness of his painting contrasts to the bursting, the ebbing and flowing of the energy that is being generated by the ethos of his imagery. He brings to the Mooon Art Project two canvases featuring the Moon. For further details, please visit http://www.philippschweiger.com/

Translated and adapted into English by Bogdan Lepadatu