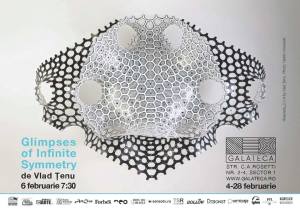 Art Show

'Glimpses of Infinite Symmetry' - Vlad Țenu

Tuesday, February 4th, 2014 – 12:00
Where
What
'Glimpses of Infinite Symmetry' - Vlad Țenu -
artshow opening February 6 , 19:30 @ Galateca
Vlad Tenu is a Romanian architect based in London. He has studied architecture in Iasi, Lisbon and in London at the Bartlett School of Architecture, UCL, where he has been awarded a Msc. in Adaptive Architecture & Computation and a Certificate in Advanced Architectural Research.
His ongoing research focuses on the integration of computation, science and technology in the design process, involving generative computational methods, digital fabrication techniques and interactive design. (More: http://www.vladtenu.com/)
The exhibition "Glimpses of Infinite Symmetry" includes a series of installations made by Van Țenu, which were born in the design research focused on the genesis of form and space.
Some of these works have been exhibited in various galleries in London, including Arup Phase2, Testbed1 or Surface Gallery.
For the event at Galateca, the artist creates a new installation.
You can discover Vlad Tenu's work at Galateca Gallery Bucharest starting February 4 until February 28