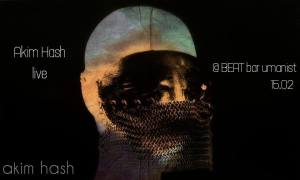 Concert

Akim Hash Live @ Beat

Saturday, February 15th, 2014 – 20:00
Where
What
Akim Hash Live @ Beat

Akim Hash is an electronic music producer and not only since 1996. His work focuses on sound exploitation, as well as of the harmonies and their influence on people. Therefore, his works range from classical music, electronic, world music or binaural beats.

A brief history:
1996: he started the electronic music production with his brother, Sultan Nasser under the name GROOVEHOLICS.
2002 - 2010: he founded (still with his brother) Sunday People, and made 3 albums (the second was produced by De Phazz's label, Phazzadelic). They went on stage with Roisin Murphy and did lots of remixes for artists such as Billie Holiday and Bryan Ferry.
2010: the solo project of Akim Hash is born. 100% handmade sounds. He went on stage with Ony Aihun (The Knifes), Saul Williams and Ghostpoet as support-act for the tour in Germany.
A PERFORMACE not to be missed this week in Bucharest!