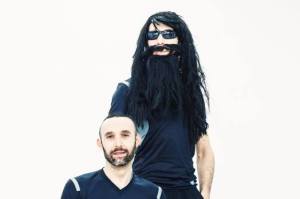 Dance Show

Realia (Bucharest-Beirut)

Thursday, February 13th, 2014 – 19:30
Where
How much
25 LEI
What
Realia (București-Beirut) - dance performance
Artistic direction and performance: Farid Fairuz
Text, stage design and costumes: Farid Fairuz
Music: Dhafer Youssef, Brent Lewis, Karpov not Kasparov, P. I. Ceaikovski, Margareta Pâslaru
Technical support: Mircea Ghinea
Production: Solitude Project & Căminul Cultural
In 2010 the artist Mihai Mihalcea was escalating the cultural scene with a project of his own biography fictionalization, becoming Farid Fairuz and launching towards the public space a series of questions and reflections regarding the cultural production, capitalism, sexuality and religion.
After "Bun rămas (sau despre discretele scăpări ale sistemului limbic)" – an extrasensory faerie as a trash-disco procession when the author "disenchants the Romanian culture", Farid Fairuz is back on stage with "Realia (București-Beirut)", a performance whose dramaturgy mixes temporal plans, real and fictional events from the life of a character living simultaneously a double identity.
Farid Fairuz forces the limits of his own memory and the fragile boundary between real and fictional discourses, turning impossible the distinction between possible, virtual and real: "4 years ago I had to invent a character in order to be able to further exist. Now I am Farid Fairuz and I tell you two things: the Ottoman Empire did not vanish, part of it surely survived inside me; everything in life is related to pain and pleasure, otherwise I cannot explain myself all these…".
Before becoming Farid Fairuz, Mihai Mihalcea was one of the most active artists in contemporary choreography field in Romania after 1989. He played an essential role in many of the initiatives which contributed to the international recognition of the Romanian contemporary dance and to founding structures and institutions that became landmarks of this field. Between 2006 and 2013 he was the director of the National Dance Centre in Bucharest.